Italy has so much to offer from coastlines to cities with historic monuments, fashion districts to food paradises. Amalfi, Sorrento, Naples, Pompeii, Positano, and Capri being so close are some of the most popular destinations to be visited in Italy. And why not the beach, coastlines, food, sun, historical monuments and UNESCO sites, grottos and so much more makes them all the way more appealing. Whether young or old, traveling solo or as a couple, as a family or group, looking for adventure or a relaxed trip these places have it all.
Planning a trip to these places can be a bit overwhelming on the first go. So here are a few must enjoy experiences that one should look out for. Also to know the best time to visit and essentials to carry keep reading! There being so many options it can be quiet a challenge to know where to stay and how to visit. Also if you are planning a trip to Rome don't forget to visit our Blog Post on The Ultimate first trip guide to ROME! here.
Personally, I would suggest making Sorrento your base for the simple reason that you can explore multiple cities along the coast as it is easily accessible by train, bus, ferries or road. Also, Sorrento is easily accessible through other cities around Italy be it Rome, Naples or any other. It also offers more budget options for stay, restaurants, and transportation than Amalfi and Positano (which are a tad bit more expensive too).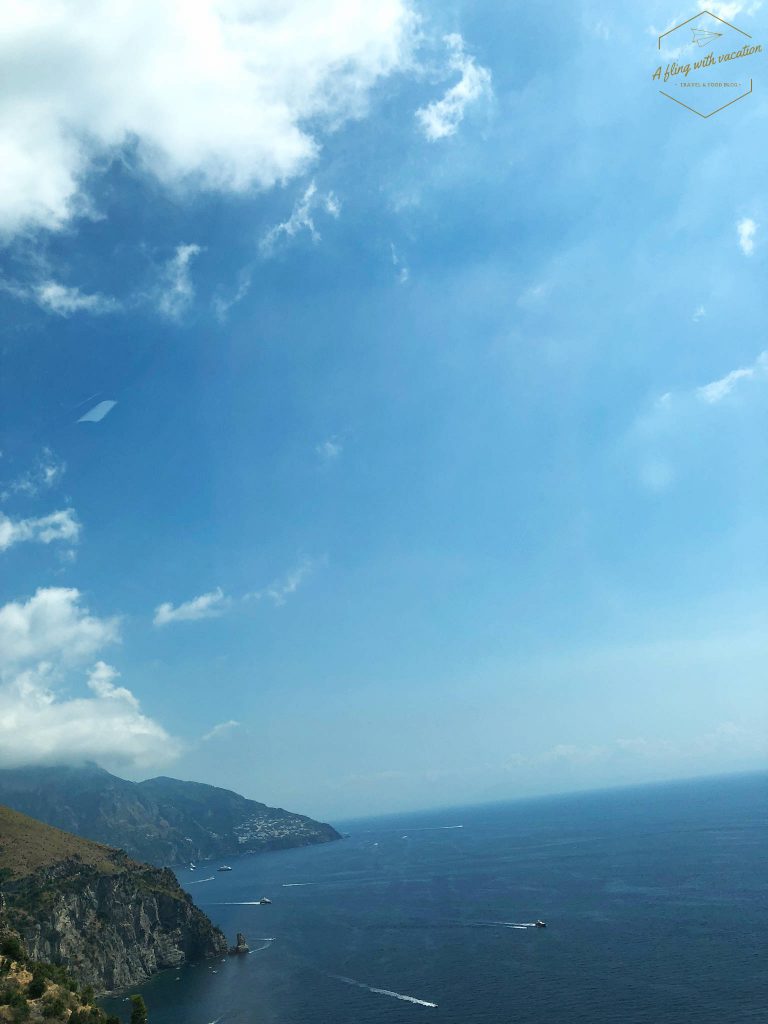 A Pro Tip: If you are considering driving along the Amalfi Coast and surrounding do consider twice. It is not as easy as around other places. You need to be pretty confident to drive around here, not only are the roads mostly single lane, the traffic is pretty bad and also the biggest issue around here is parking. The winds along the route are also something to be considered.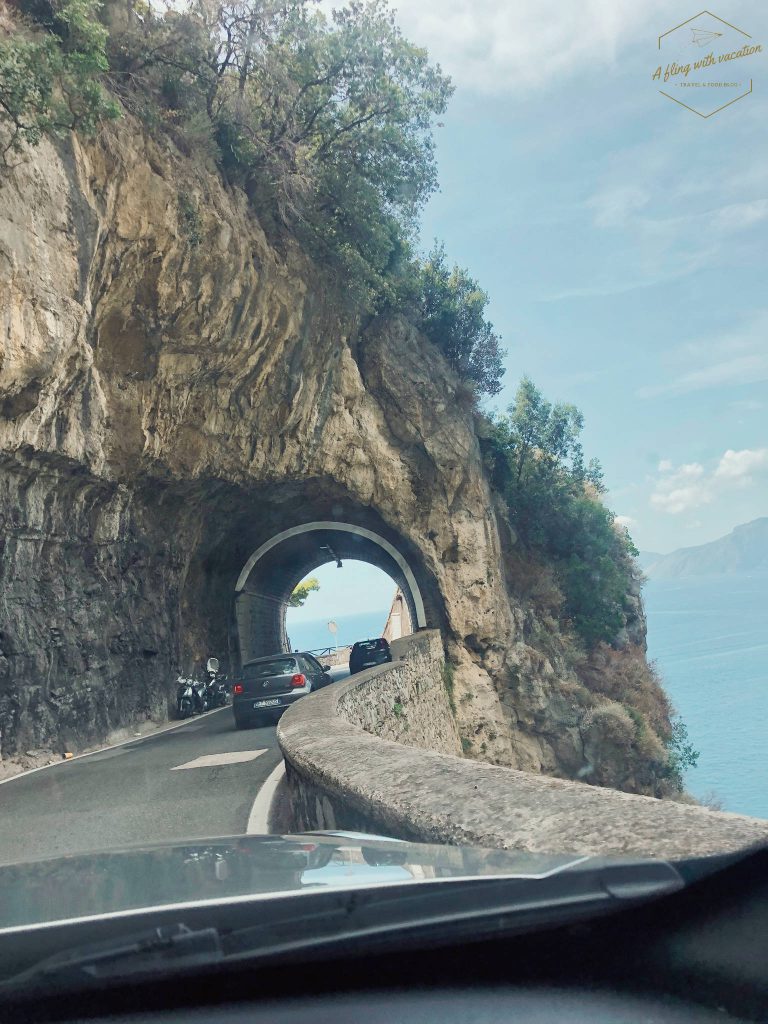 Some Important information before traveling:
Firstly, before jumping onto the details, some vital information that you need to know beforehand.
Currency:

Euro. All the restaurants and hotels also accept cards, but carrying a few Euros would be advised.

Visa:

Visa for Schengen States. Check if you require a visa and incase if you do, apply for one with the required documentation. For all information to obtain a Schengen Visa check here.

Weather and Best time to Visit:

Sports shoes and flip flops all the way!! Cottons and linens along with beach clothes are most recommended. Sunscreen with a good SPF and hats/ caps to protect you against the sun and tanning unless you are here for some tanning. Apart from that adapters and portable chargers, lip gloss (a personal essential). Usually sunny and hot so carry water.

Best times to visit these areas is considered to be between April and October, when it is summer and nice, before the winter kicks in. Also, May and September are considered better months to travel as compared to others for the simple reason that July and August are high tourism months for Europe attracting crowds of tourists. Also, on August 15 is a public holiday in Italy and also high tourist season across Europe, so if you are planning to visit these places around then think again and book way in advance.

Time zone:

Italy like most of European countries uses the Central European Time (CET) from October to March, that is during winters. CET is 1 hour ahead of Coordinated Universal Time(UTC). But, from March to October that is in Summers, time zone switches to Central European Summer Time (CEST) which is 2 hours ahead of Coordinated Universal Time (UTC).

Accommodation:

I recommend staying in Sorrento, since it is centrally loacted from all the other coastal towns and cities. Also it is pretty easy to commute from here to all the places.

Realis Koara, Sorrento: A boutique bed and breakfast, with limited rooms, located in the heart of Sorrento with everything easily accessible. The place is clean, nice and the host makes you super comfortable and is there for all the information and help you need for exploring the surrounding area.

Languages:

Italian

Electricity:

Sockets used in Italy are Type C, Fand L. So carry your Adapters in case need be.
Places to explore in the surrounding area:
The whole area offers so much that it could be overwhelming to decide on a few. But some of the most recommended ones are stated below.
1. Naples & Pompeii:
Naples the place where the famous wood-fired Neopolitan pizzas originated makes it a must go and try place for the foodies in you. Also, various other historical and UNESCO heritage sites near it make it a popular destination. But there is only so much one can do on a one-two day trip. However, I do recommend trying the Pizzas from some of the most famous places here like the Antica Pizzeria Port'Alba, Sorbillo, Pizzeria Brandi, to name a few.
Mount Vesuvius
Ruins of Pompeii
Ruins of Herculaneum
2. Sorrento:
A town with some fantastic feels and views is often not in the hype. But if you cant make to Naples for the Pizza no worries Sorrento itself has got you covered. Pizzas, Lemoncello, views, beaches, shopping, it has it all.
A walk around the town is a great way to spend in Sorrento too. Along with marina grande (the part of the town which has the fishing harbor feel and many family-owned tavernas), Piazza Tasso, and the Sorrento coast you could pick and choose or spend a day around these. You could enjoy the waterfront near the harbor at Piazza Tasso where you could jump off into the water or sunbathe. Also, I recommend staying making Sorrento your stay base and plan traveling around from here.
Villa Comunale, a bayside park with gardens, fountains & sweeping views also makes a great spot on your visit to Sorrento. Sunset along the marina grande/ Villa Communale makes a perfect end to a day spent in Sorrento.
Another way of spending a fun day is visiting Capri which is just a 20-minute boat ride from Sorrento. If you do plan to visit Capri this would definitely be the best spot to start and end the journey from.
If you are in Sorrento, don't miss the delicious pizza at pizzeria il Ruttino.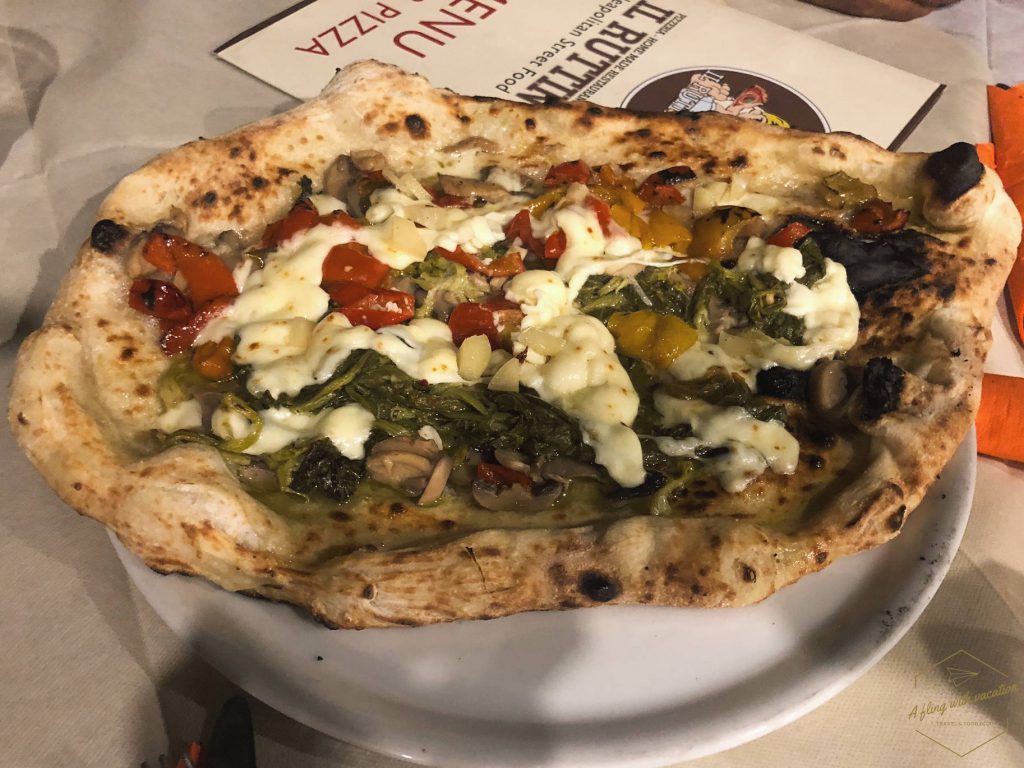 3. Amalfi & Positano:
The famous coastline towns of Amalfi and Positano are undoubtedly beautiful. There is a reason that the Amalfi coast is amongst the UNESCO heritage site list- with its houses resting on the cliff tops and the incredible green-blue colored water makes it so stunning and also a desirable place to be at.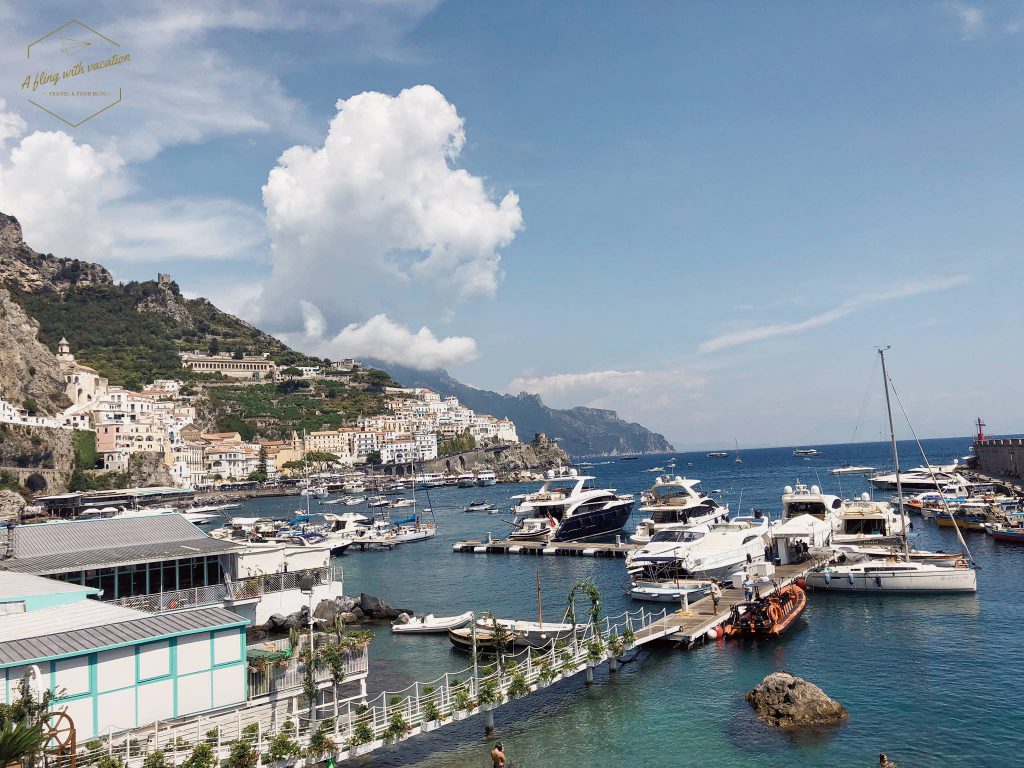 But, be careful if it is a high tourist season, you might have some trouble not only in the parking but also in experiencing the best of these places. Though the drive along the coastline is amazing, beautiful and breathtaking but also, it is a one-lane highway. So if you are up for driving you are in for a treat. If you don't want to drive it is still not difficult to commute being the buses and boat tours that run throughout the day.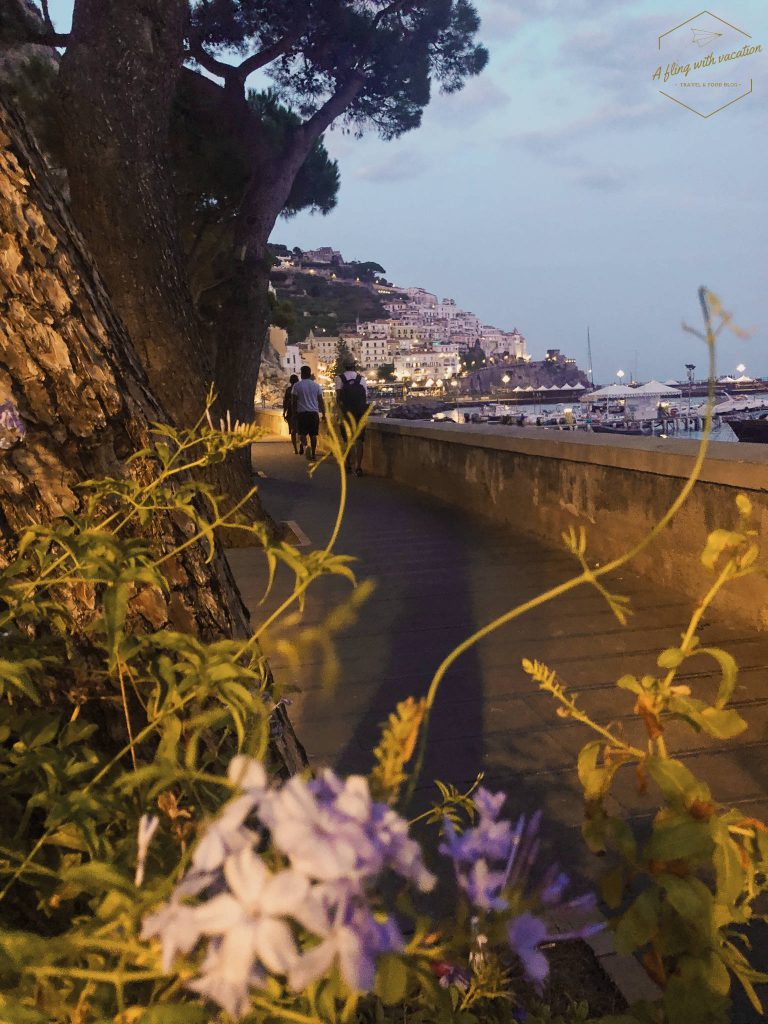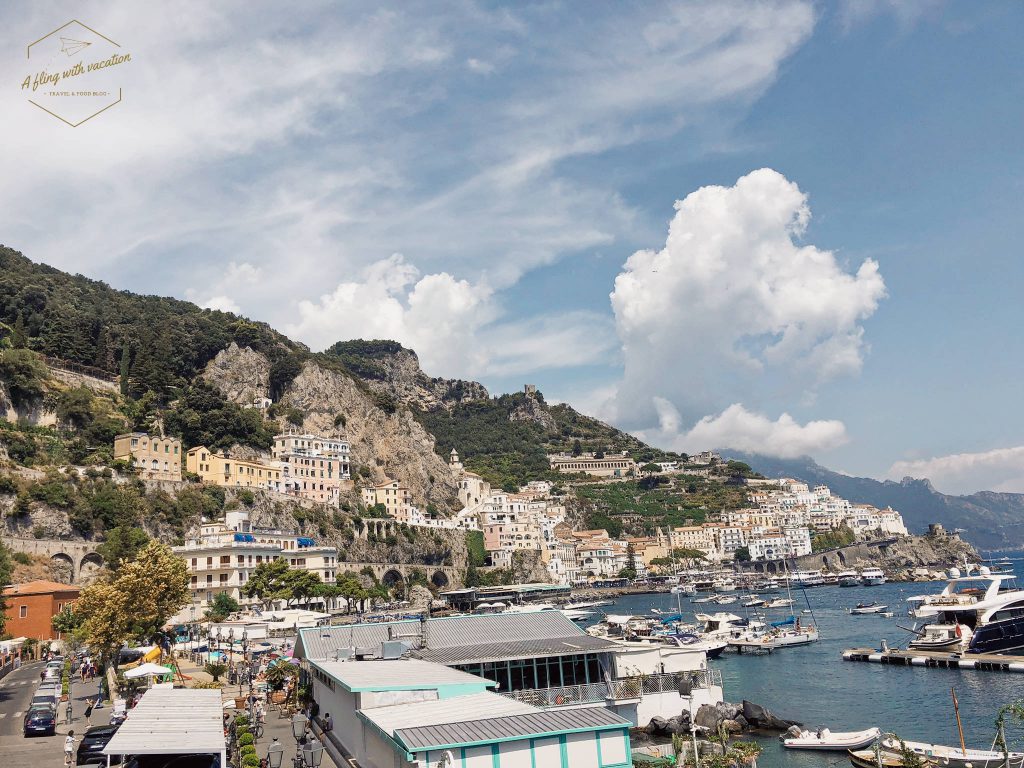 But one suggestion: make whatever bookings you wish for in advance. We, for example, thought of renting the car as and when we reach, we had to wait for 2 hours in line and still could not find a car of our choice. Another thing was we had to pay 4 times the money that we would have paid if the car were prebooked. Also, the yacht/ boat tours get booked up easily and fas so do make a prior booking for one of these if you wish to.
Pizza is not the best here, it is more touristy, expensive and commercialized. I would recommend Sorrento for a great meal.
Boat tours along the Amalfi, Positano, Praiano coastline– I do recommend the sunset tour. We took a sunset tour for 3 hours and it was sufficient to enjoy the whole experience.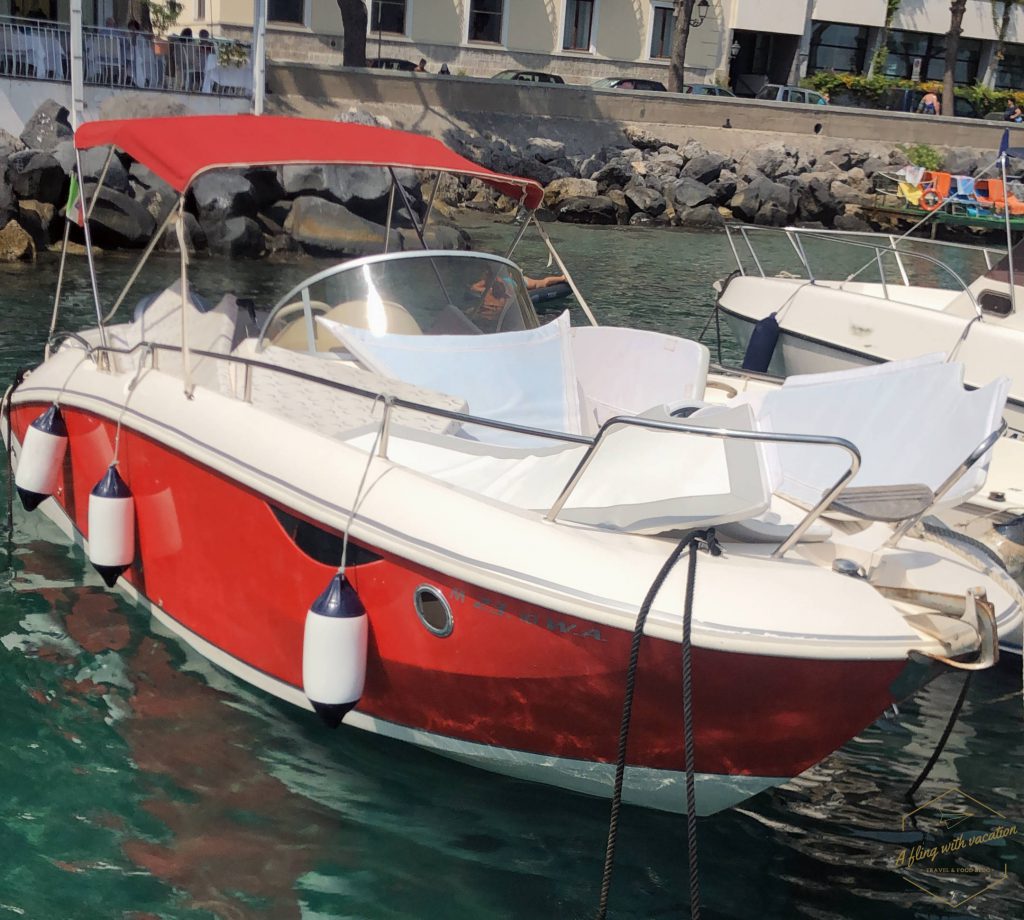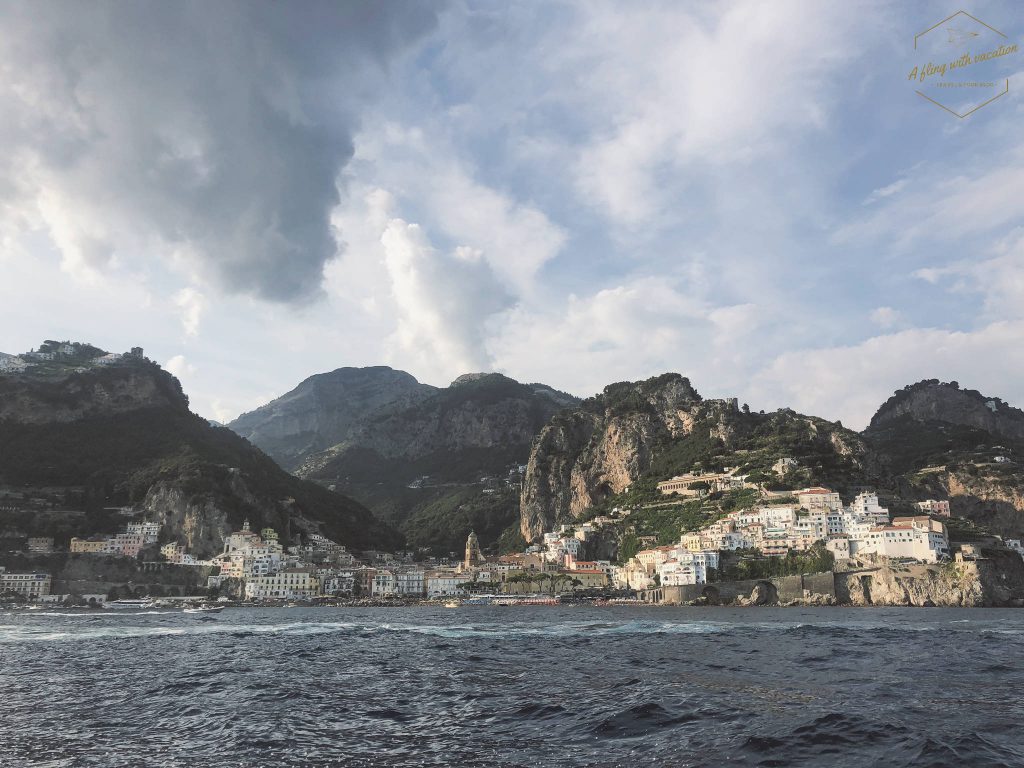 Tour to Capri and blue grotto
Visit the towns of Positano and Praiano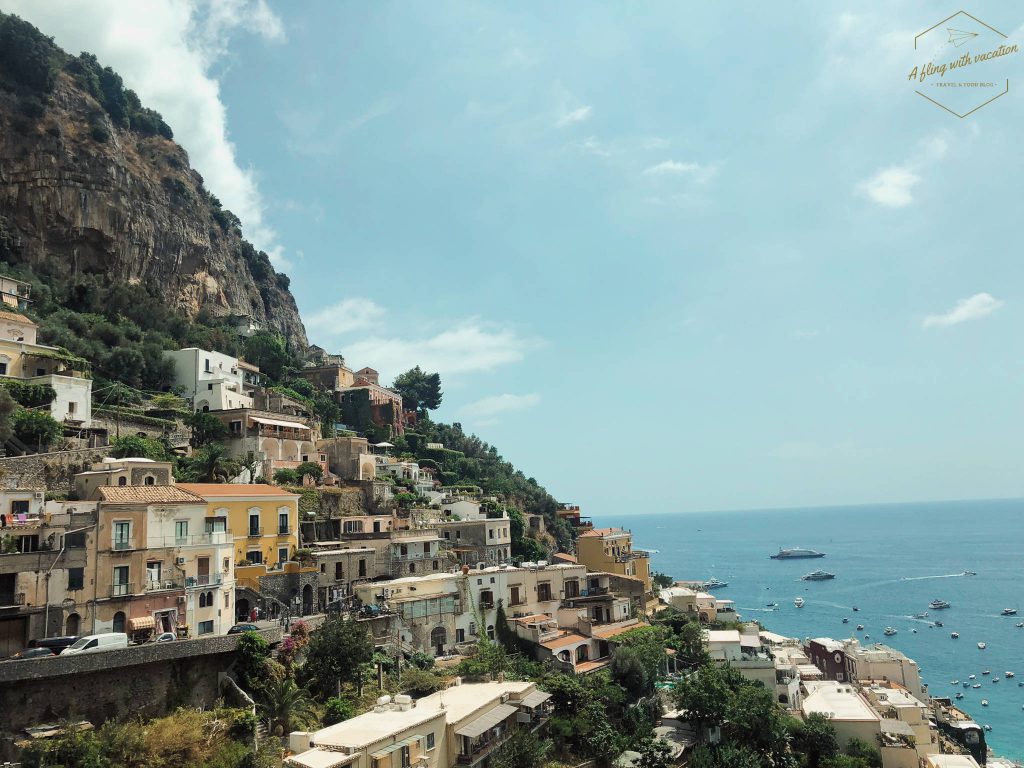 Limoncello: a famous lemon-flavored liqueur from Italy made with lemon, water, sugar and, of course, alcohol. This area is famous for its Lemons and its size.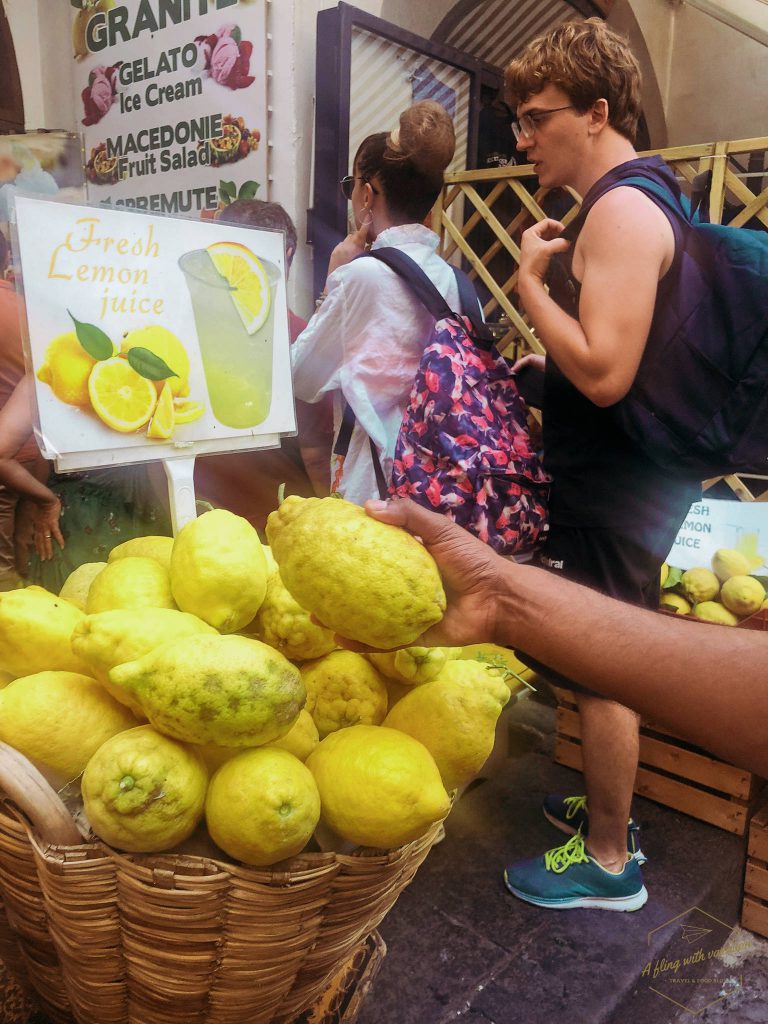 A tour to Ravello, a hidden gem of a resort town by the coast of Amalfi, where the famous cliffside gardens are situated. Also, Villa Rufolo offers some sweeping views from its terraced gardens.
Amalfi Cathedral: While strolling through Amalfi you can not miss this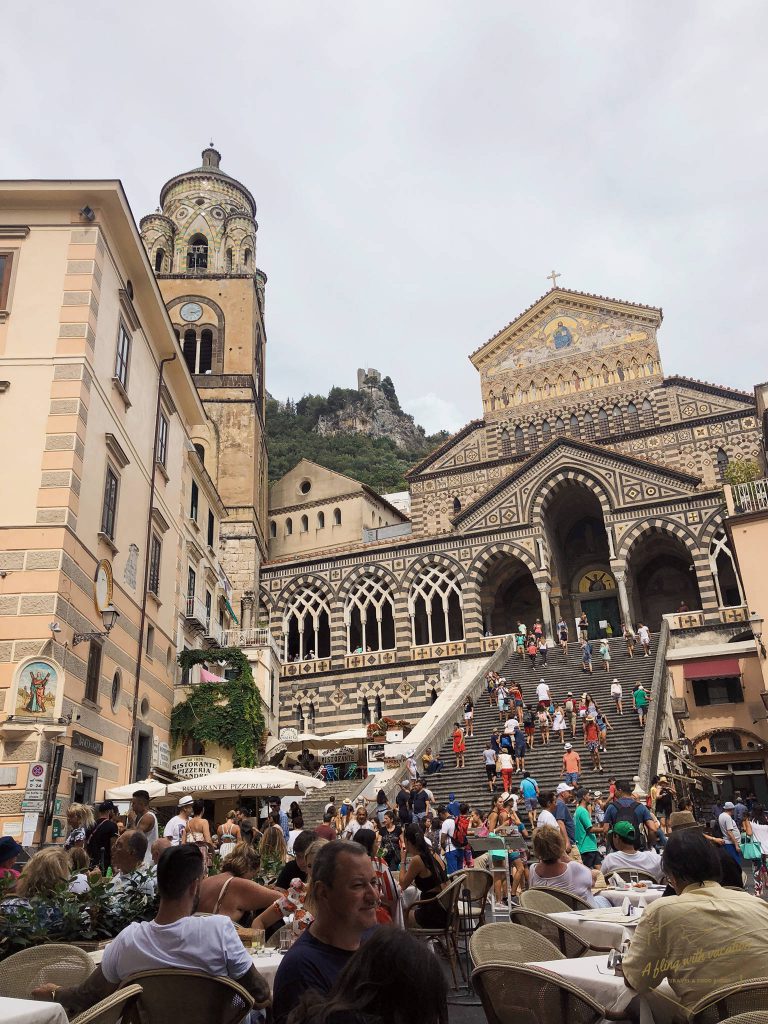 Fiordo di Furore: This splendid spot at the only fjord in Italy along the Amalfi coast overlooking the Bay is where annually a coastal high diving championship takes place. You could find many videos on youtube of this championship where many athletes jump from the bridge at a height of about 28m above the sea.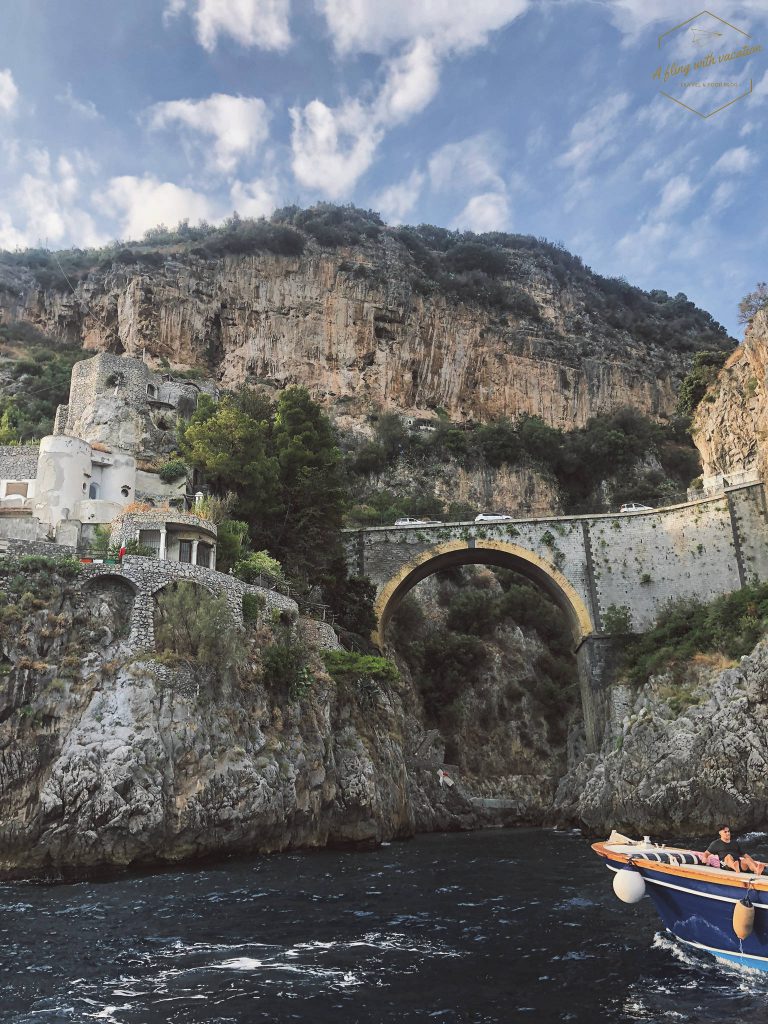 Roam around the shopping street of Amalfi- Ruga Nova Mercatorum: A charming street having many passageways full of shops, cafes, and restaurants. Here you could shop for bags, clothes, footwear, souvenirs, local products, such as pasta, herbs, spices and also the famous limoncello. The street is usually full of tourists and people admiring the architecture, historical buildings like the Amalfi Cathedral, and a fountain while strolling around Amalfi.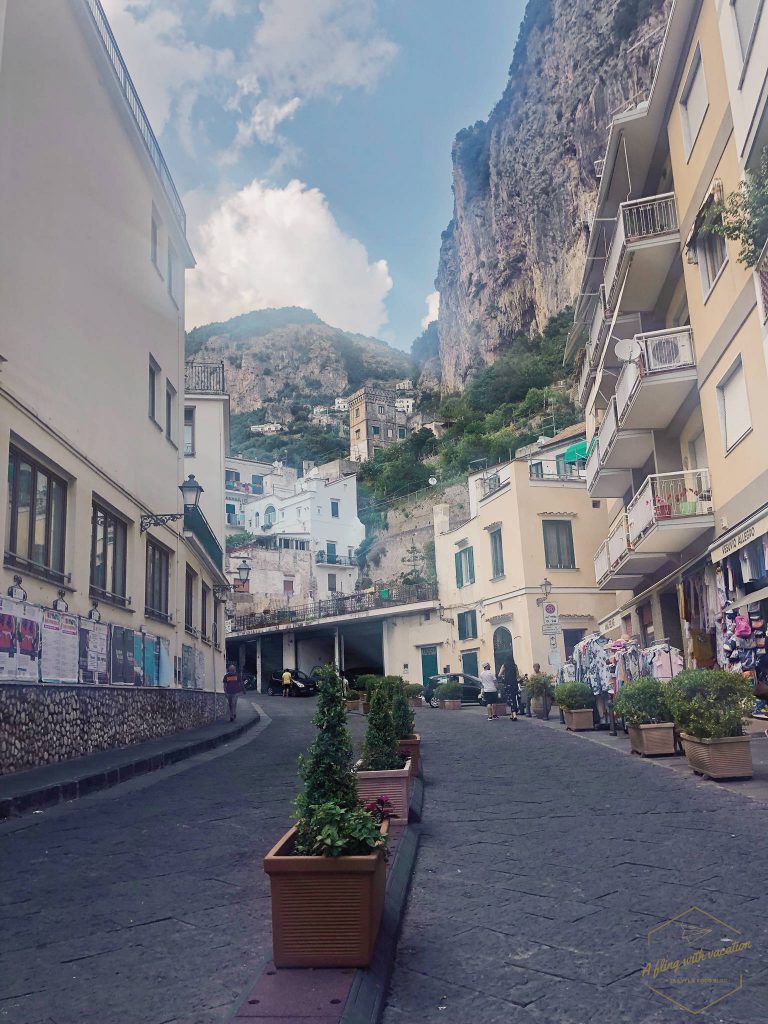 4. Capri:
An island near the coastline of Sorrento, Positano, and Amalfi makes an amazing day visit place if you do have the time and if you don't plan for a stay here. One thing Capri is famous for is the Grottos- specifically the blue grotto. So do check this off your list while here or around. Do make reservations beforehand as there are lines and a long wait for this attraction.
Some unique and fun experiences to look out for around the coast!
1. Boat/ Yacht tour along the coastline: I do recommend the sunset tour. They do offer to put up a shade but, the sunset tour works perfectly with no harsh sun. For our ride, we chose Pointle Il Faro Amalfi tours, and they made sure to make it a ride to remember. They are super professional, reasonably priced, and make sure to give you all the information about the boat and ride. We requested a custom sunset tour along the Coastline of Atrani, Amalfi, Praiano, and Positano and they gave us the best experience. From water to beer, champagne, and coke, they covered us for it all during our ride. I do highly recommend these guys for your experience. Do check out their site here and you can choose the boat and tour that suits you the best.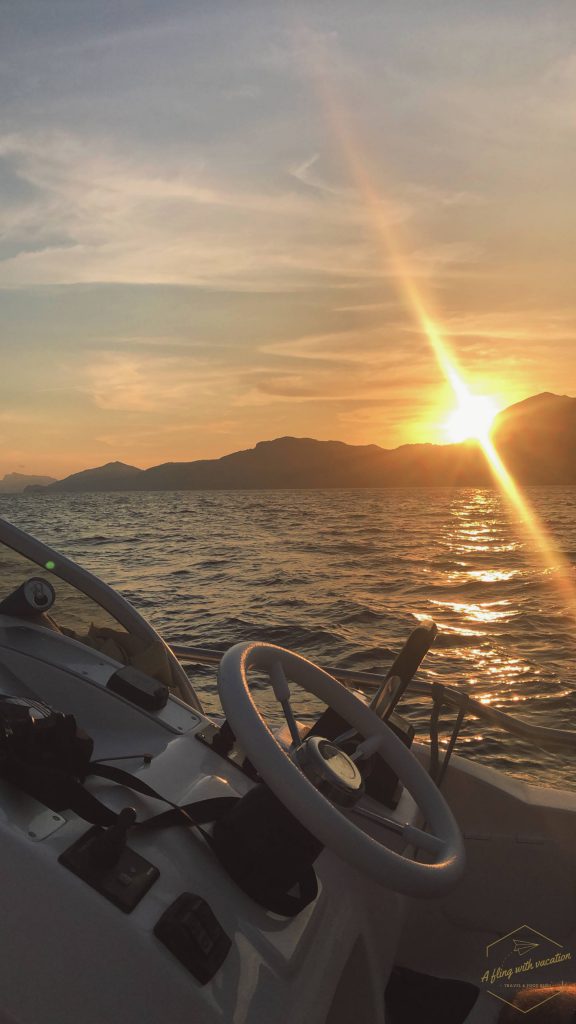 2. Grotto tour– mainly there are 3 grottos to see around the Capri island- Blue, green and white. Blue grotto the most famous and pretty one attracts most of the tourists. I do recommend taking advanced reservations for these as not only the queue is long but then you end up paying even more. Also during the winter season from November to March, the Blue Grotto is usually closed due to high winds and rough seas, which makes the entry and exit from the cave mouth difficult. Though if the weather and sea conditions are safe, the grotto might be open. So do check before you plan.
3. Wood-fired Neopolitan pizzas: You would definitely be in the paradise of Woodfired pizzas in this area. Where else would you get the most authentic experience than the place where it originated. You could head to the famous joints in Naples like Antica Pizzeria Port'Alba, Sorbillo, Pizzeria Brandi or go to Sorrento and try Pizzeria Il Ruttino or other places.
Another experience about Pizza at Locanda del Marinaio, Amalfi. I don't suggest eating here. This place was a bit rude to my experience. Firstly, they don't entertain you if you plan to order appetizers only, but they also want you to order a minimum of 1 dish per person. Not only this they impose an extra charge if you plan to share. The way the server talked and told us about these was also a bit rude. Not that the food was amazing either! It was just okay, and not worth the price and attitude. To be honest, Sorrento has better food and they serve you with warmth too.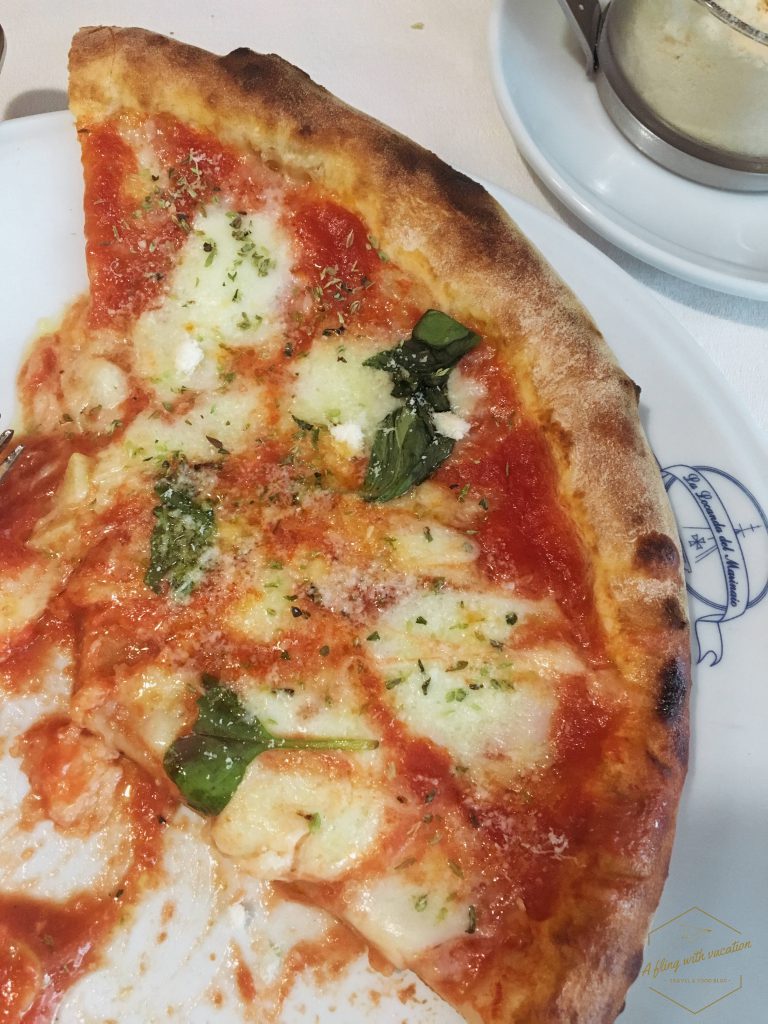 4. A Beachy day to enjoy the sun and the views along the coastlines and if you are in for it a boat tour. A visit to these coastlines is not complete unless you do a boat tour along the coastline.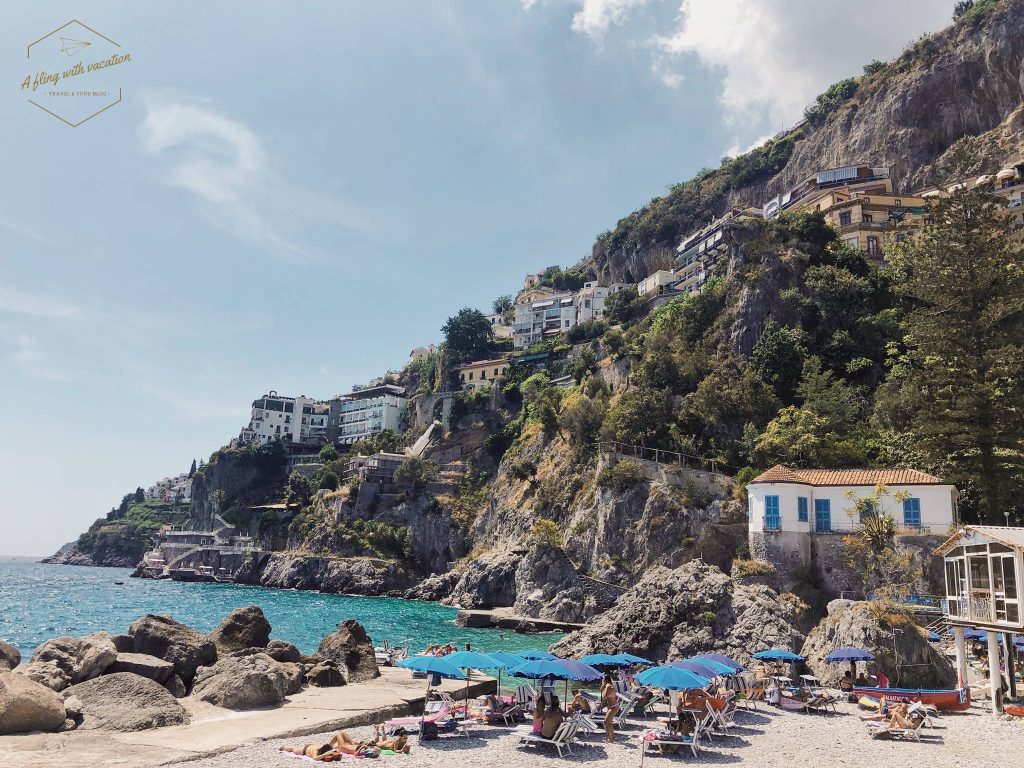 5. UNESCO Sites: like the Ruins of Pompeii, Ruins of Herculaneum, Amalfi Coast, Mount Vesuvius, etc.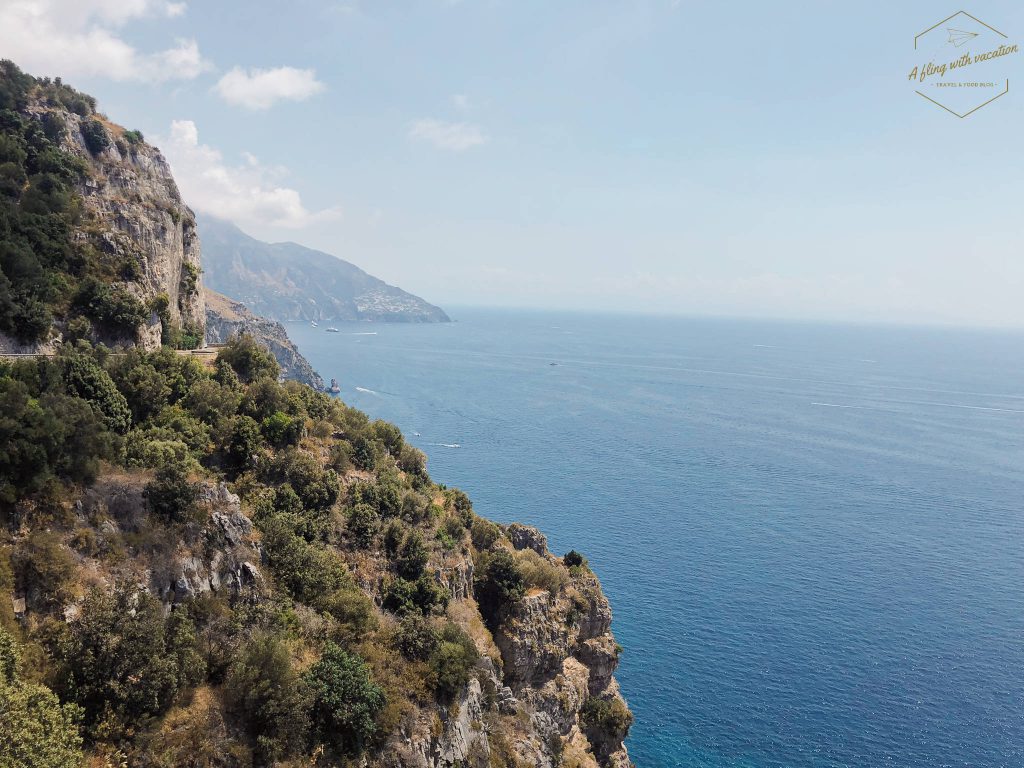 6. Cooking classes with a view or otherwise to learn some famous Italian pasta, pizza, limoncello, and other delicacies. There are many to choose from and you could look up for some at the Airbnb experiences tab.