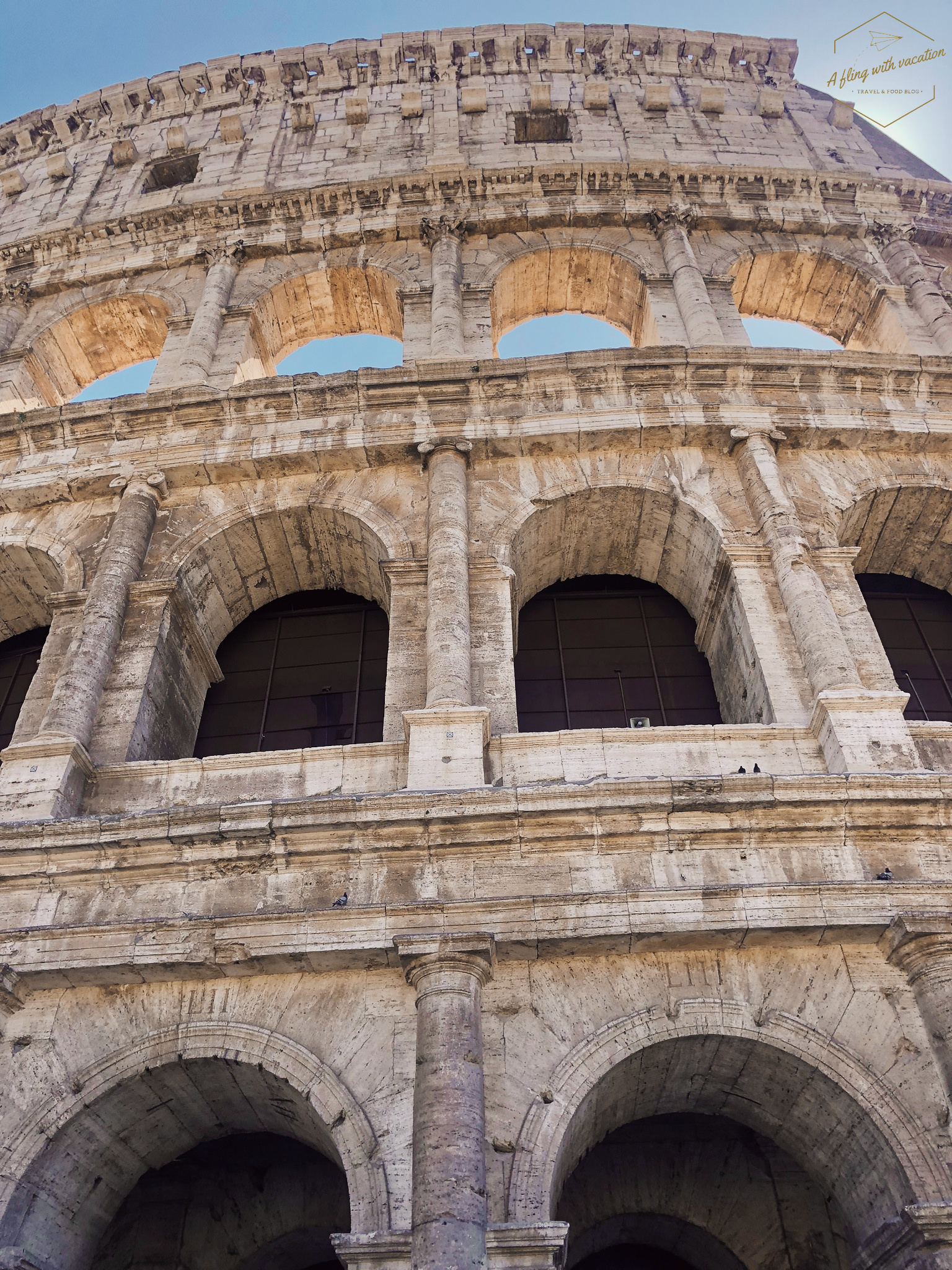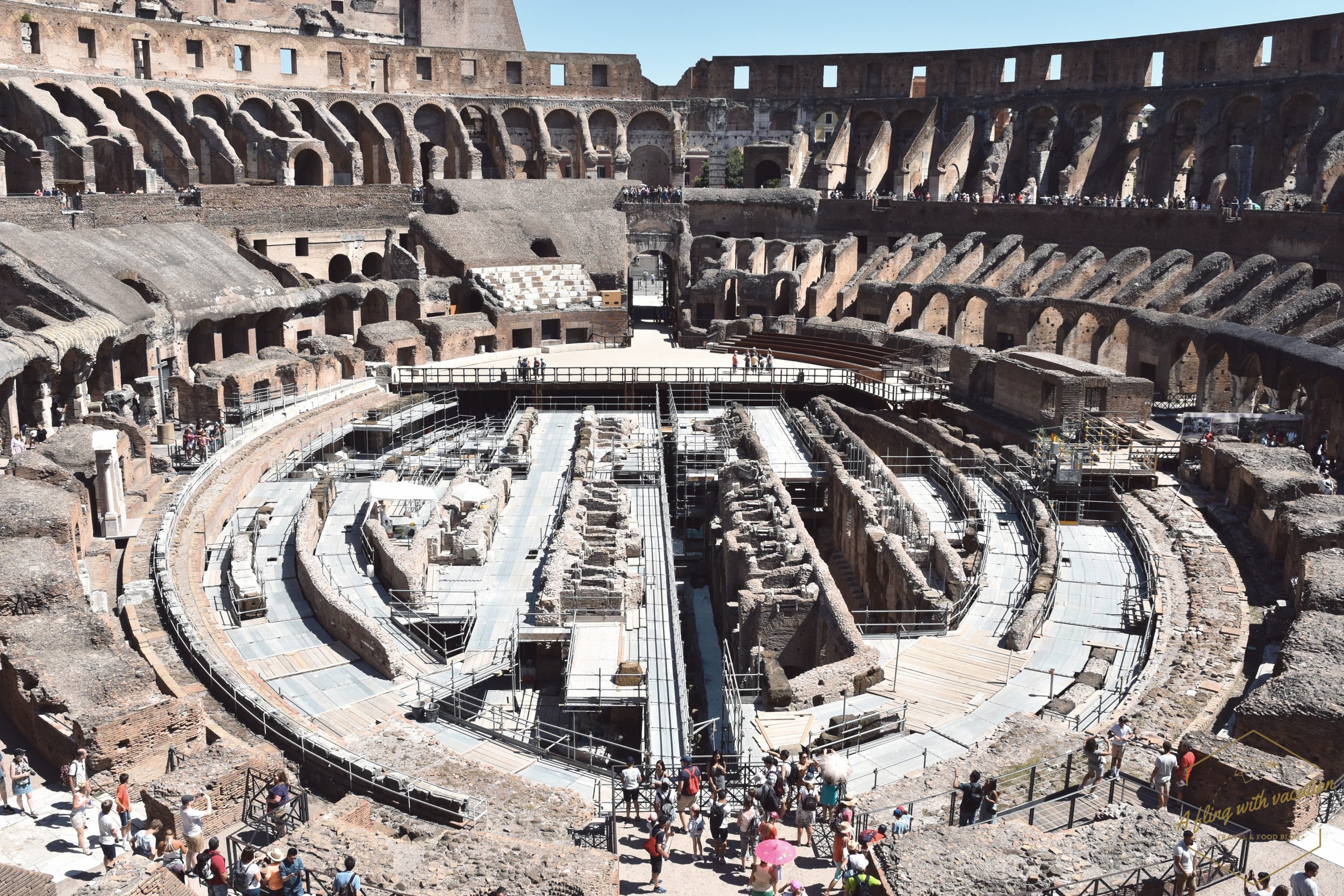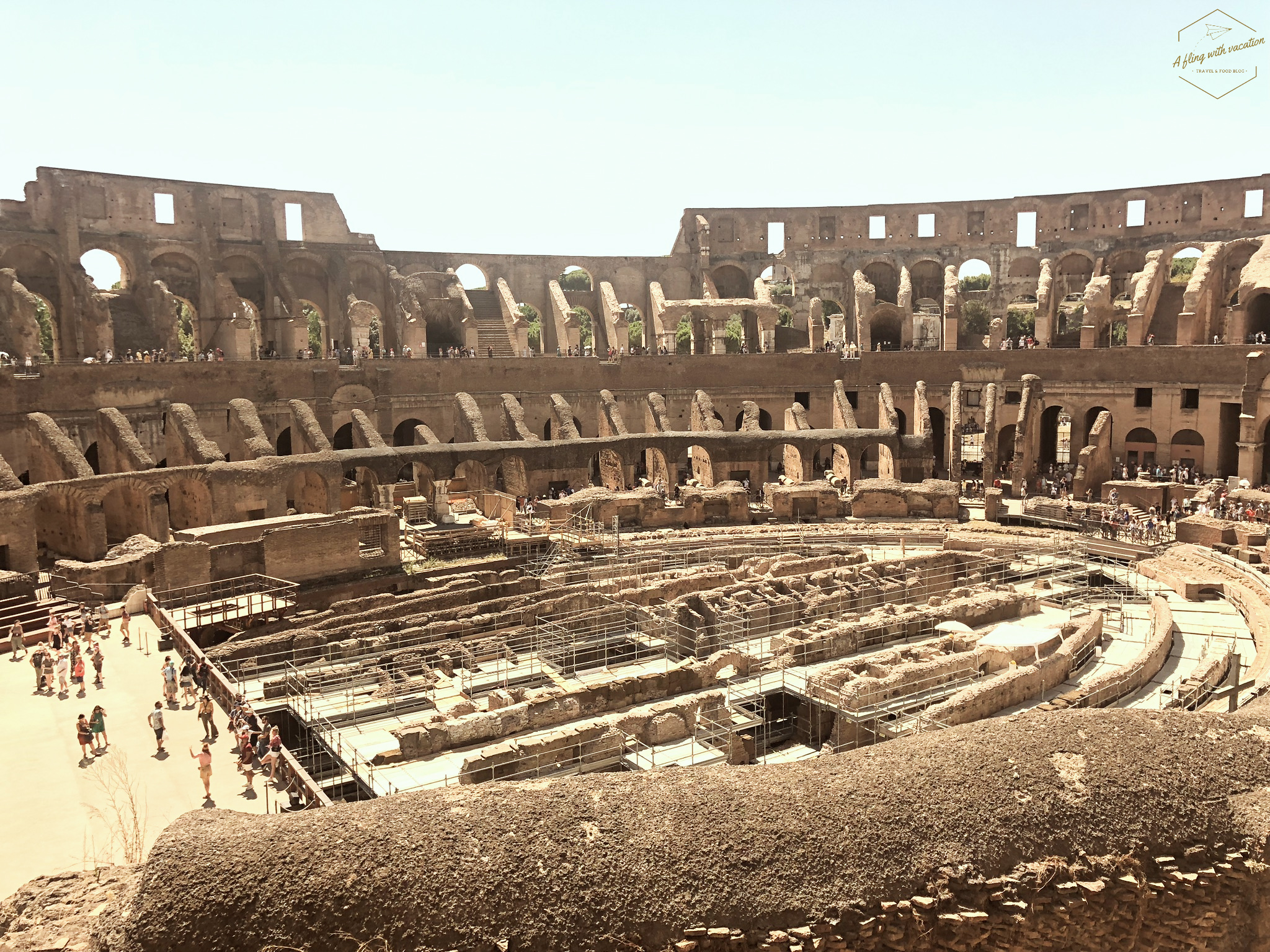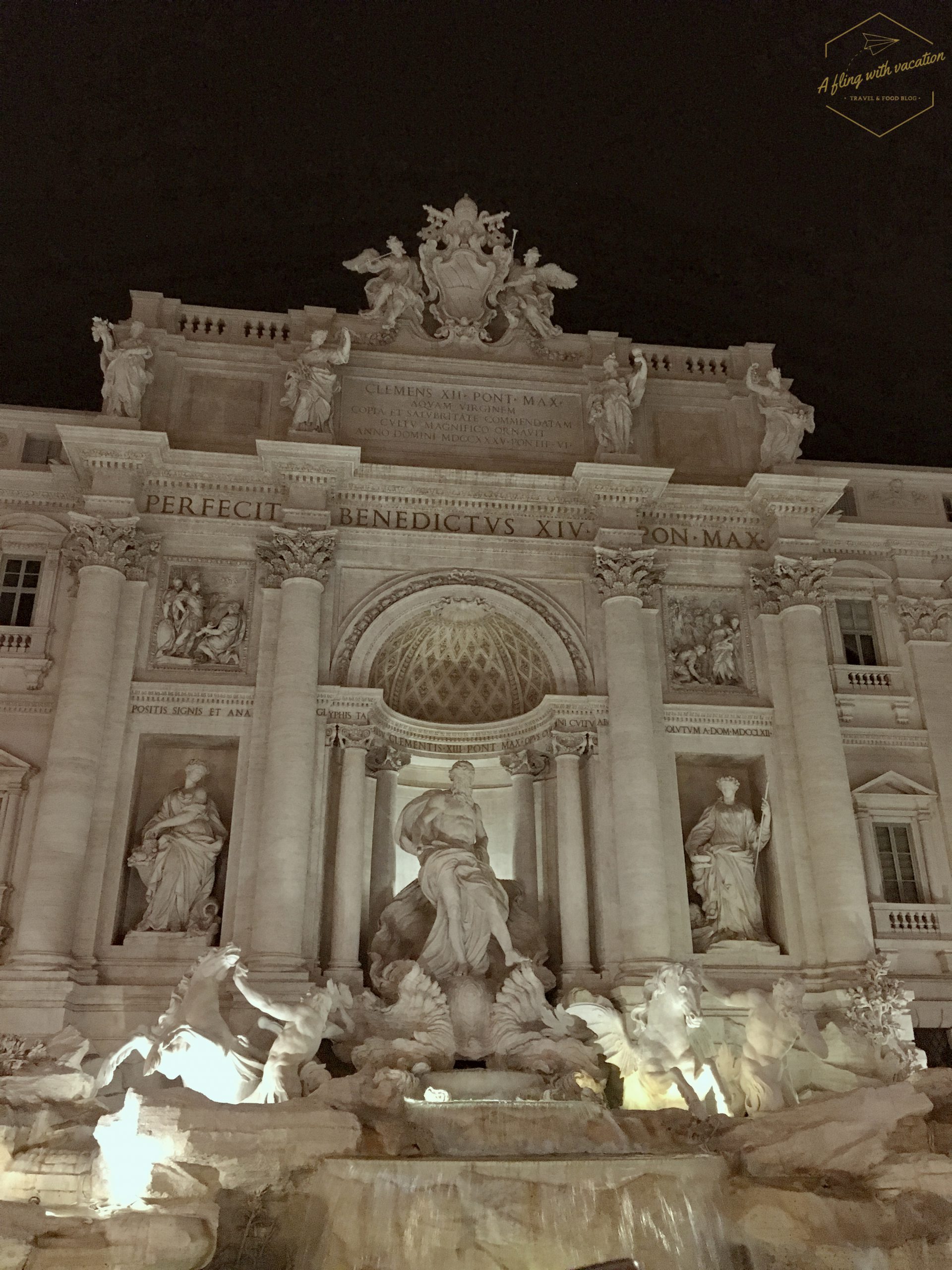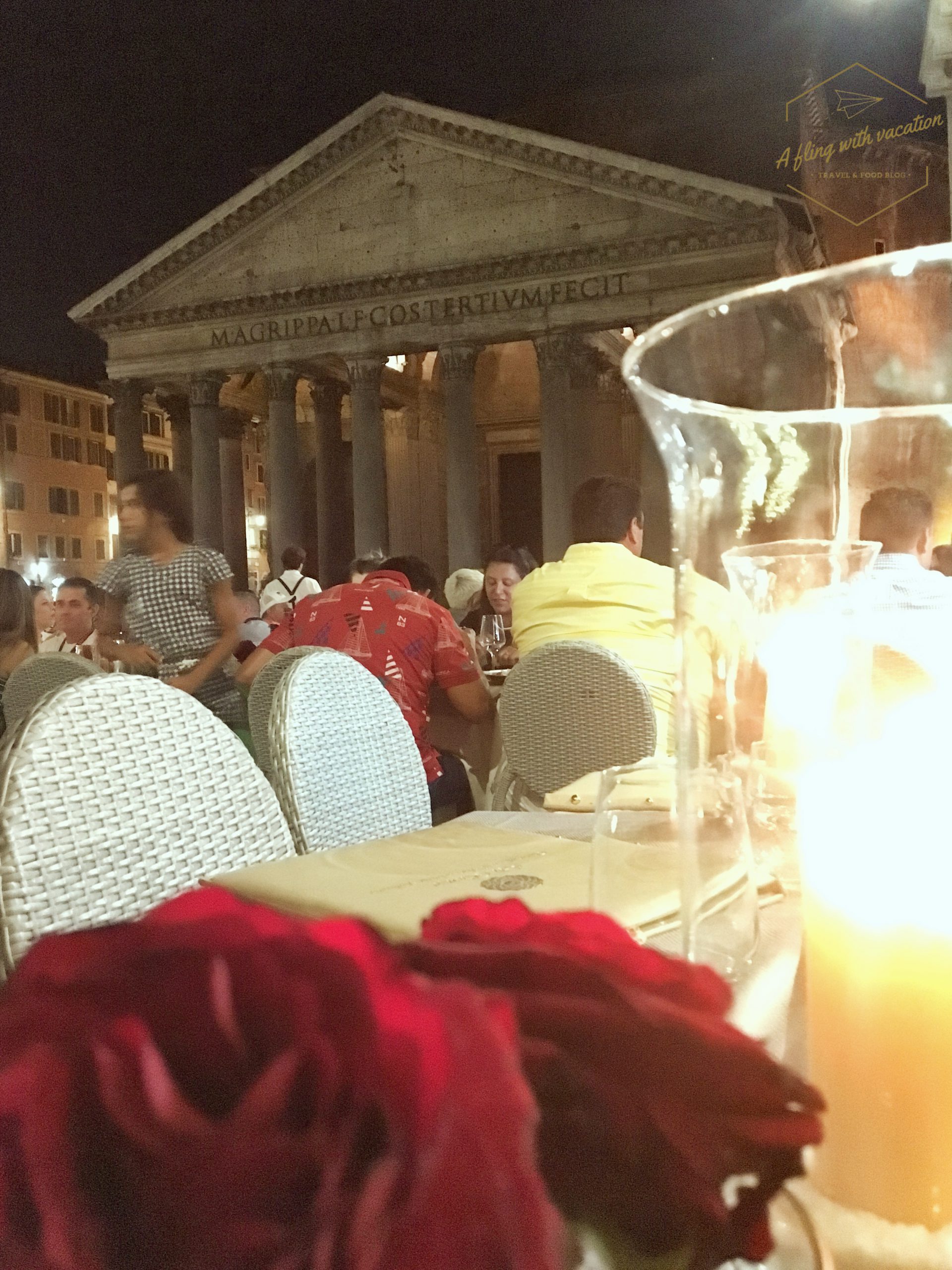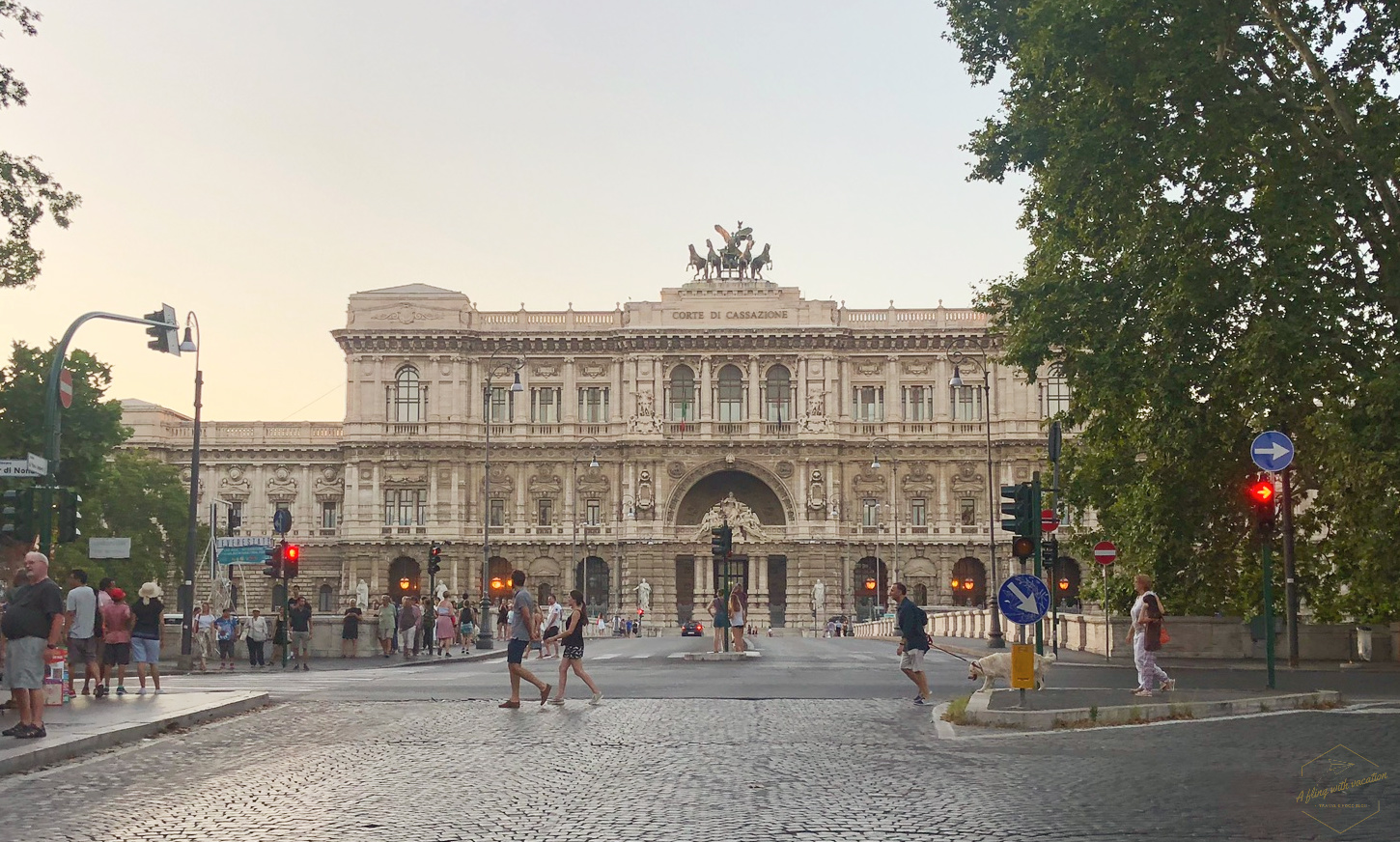 Rome, a place like no other, is a must-visit destination for everyone. The architecture, art, history, and culture combined altogether make this place like no other in the world. If you are planning your first trip to Rome, it could be a bit overwhelming while deciding on what all to do, where to eat and stay. Rome offers a perfect mix of antique and urban, romantic and exotic, glamourous yet simplistic. This place is just what a perfect holiday needs history, architecture, great food, culture, and a mix of all the right things.
With its architectural wonders, Piazzas, food, and culture makes a trip to Rome one to remember. Do not forget to try a few foods and Desserts Rome is famous for. Also, a visit to the best architectural wonders is a must. For all that you need to try and visit on your trip to Rome, do keep reading the post. Rome is also easily accessible with cabs, trains, bikes, etc. But in the city center, you are in most of it not allowed a car except taxis. So if you are planning on renting a car think twice about where you are staying and if car rentals are allowed in the vicinity. We stayed in the city center and were able to find cabs easily.
Also check out our post on the trip to the Italian Coastline including Naples & Pompeii, Amalfi, Sorrento, Capri & Positano- tips and things not to miss here.
Some Important information before traveling:
Firstly, before jumping onto the details, some information that you need to know beforehand.
Currency:

Euro. All the restaurants and hotels also accept cards, but carrying a few Euros would be advised.

Visa:

Visa for Schengen States. Check if you require a visa and incase if you do, apply for one with the required documentation. For all information to obtain a Schengen Visa check here.

Weather and Best time to Visit:

High Tourist Season in Rome: May to September with maximum crowds from June – August. Because, most people take holidays durinf the summer school break. So be prepared for big crowds, long waits in lines at most popular attractions and expensive lodging. On the brighter side longer sunny days do give you time to explore and have more Gelatos to cool down the summer spirit. Temperatures do rise to as upto about 32 degrees Celsius and days are humid. Also, August 15 is a public holiday in Italy and hence, high tourist season across Europe. So, if you are planning to visit these places around then think again and book way in advance.

From March – May and October to Novemeber is the better weather times in Rome, with lesser tourists and not as hot days makes this the perfect time to plan a trip. But, prebookings are still advisable. During the Easter time in March – April the city starts getting a bit buzy specially near the Vatican City. October- november offer glowing radiant days but they aslo are some of the wettest months in Rome.

December – February are the winter months with chills and rains, but the temperature rarely falls below -1 degree Celsius. Winterdays bring lesser crowds at major attractions and comparatively better rates on lodging, lesser wait in lines and comparatively cheaper travel fares. Thought he winter holidays around Christmas and New Years does bring some crowds in this low tourist season.

My Travel Essentials:

Pack according to the travelling timeline. For Summers, Caps/ Hats, cottons, water bottles and sunscreen. Winters call for scarves, warm clothes, gloves, umbrella and boots. But for most part comfortable clothes and shoes to walk and explore a lot.

Time zone:

Italy like most of European countries uses the Central European Time (CET) from October to March, that is during winters. CET is 1 hour ahead of Coordinated Universal Time(UTC). But, from March to October that is in Summers, time zone switches to Central European Summer Time (CEST) which is 2 hours ahead of Coordinated Universal Time (UTC).

Accommodation:

I do recommend staying somewhere near the Pantheon for the real feel of Rome. Also, it is so centrally located that you could cover most areas walking. Alongwith, enjoying the night stroll with crowds and artists filling up the streets giving away the most Rome filled experience. If you visit Rome and don't wander on streets near Trevi fountain, Pantheon, etc. trust me you have missed something amazing! You definitely need to go out here at night. And don't miss Venchi!!

Di Rienzo Residences, Rome, Italy: Located in the heart of Italy, by the Pantheon and Piazza Novana Square, it looks all things Rome inside and around. We booked 2 apartments which were with kitchen, living area, wifi and elevator access. The building was a restored 16th Century structure and fromt he inside you could feel just that. A little spooky to be honest, with the whole insde of the building. The apartments we stayed were the Domus Area Apartment and the Pantheon Suite Apartment. The Domus area was a little more old school apartment. The Pantheon Suite was a bit more modern and nicer decorated.

The best part about this Hotel was the loaction- right next to Pantheon. We did not go to Rome to stay in the room but to wander the streets and it gave us the best of that. Their restaurant also offers a great view of the Pantheon while you dine which was an exquisite experience in itself.

Languages:

Italian predominent but in the city centre people are more tourist friendly so most of the people speak English.

Electricity:

Sockets used in Italy are Type C, Fand L. So carry your Adapters in case need be.
All the places you need to visit and more!
With Rome comes a lot of crowds irrespective of the time. And you can't blame Rome for it, everyone wants to visit Rome, Right! And all of us want to make the most by exploring as much as we can in this history-filled place. So the tip would be to try to take skip-the-line tours and tickets for saving on your time and making the most of Rome. The following are some of the most visited places that you need to explore when in Rome.
1. The Colosseum: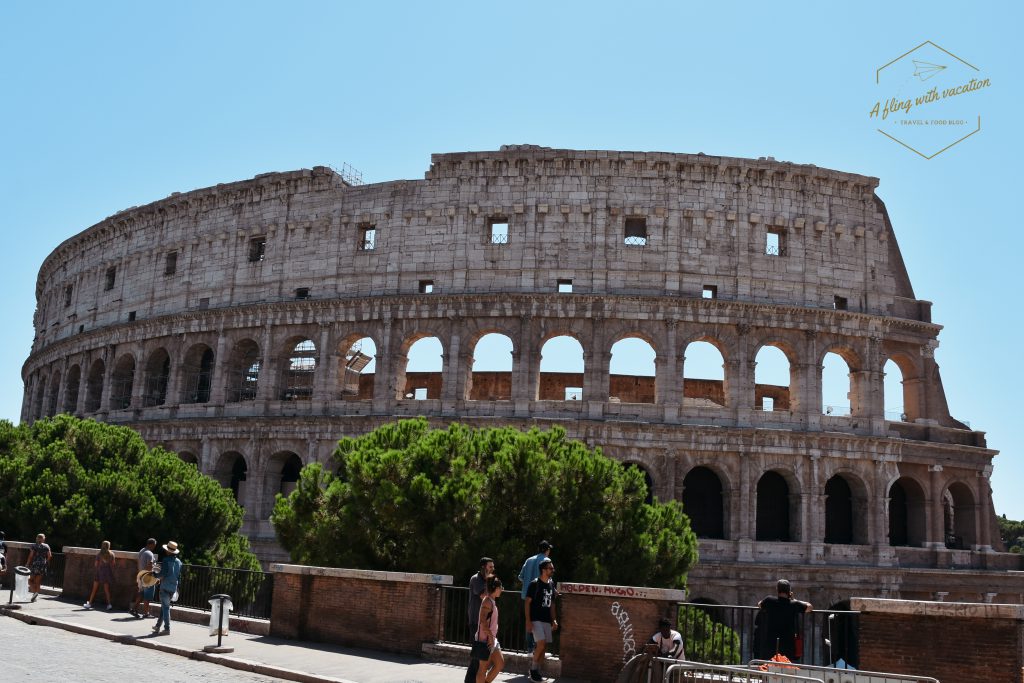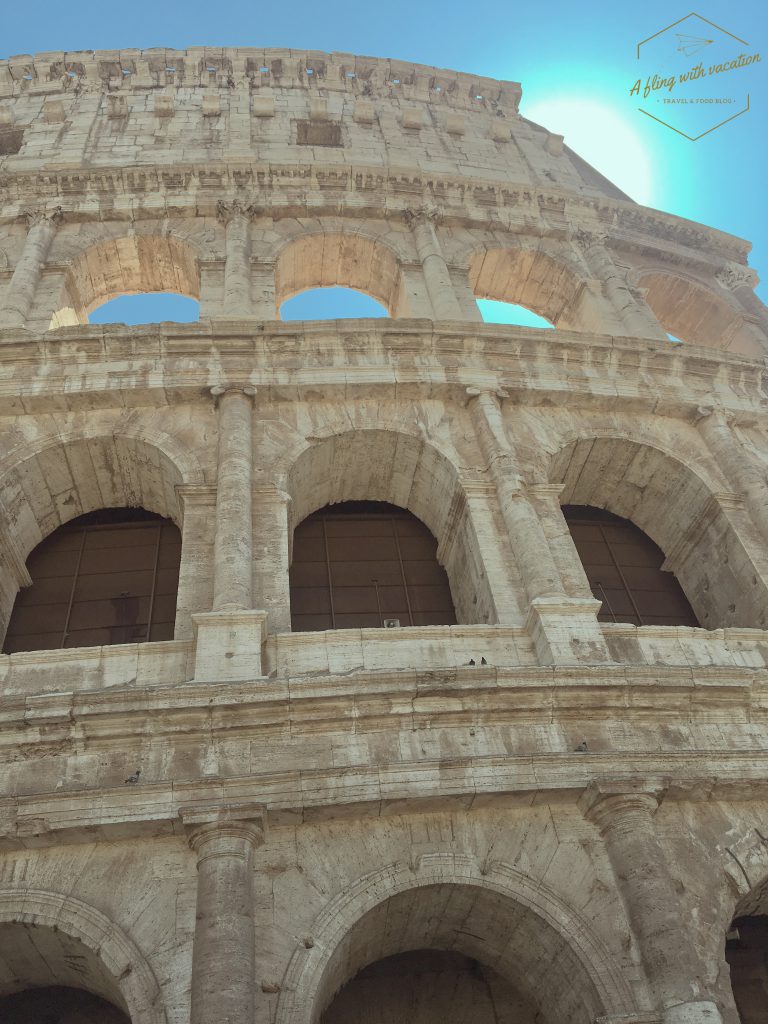 The first place that probably crosses everyone's mind when Rome is talked about is The Colosseum. And why not, it is one of the most exquisite sights to see in the world. A nearly, 2000-year-old structure, the largest amphitheater in Rome accommodating up to 55,000 people. This place has my heart. It is worth the hype! The building started constructing in 70 AD, but the arena/ amphitheater was inaugurated about 10 years later. This huge amphitheater was the scene of many gladiatorial contests, animal fights, and hunting, executions, re-enactments of famous battles and various other activities.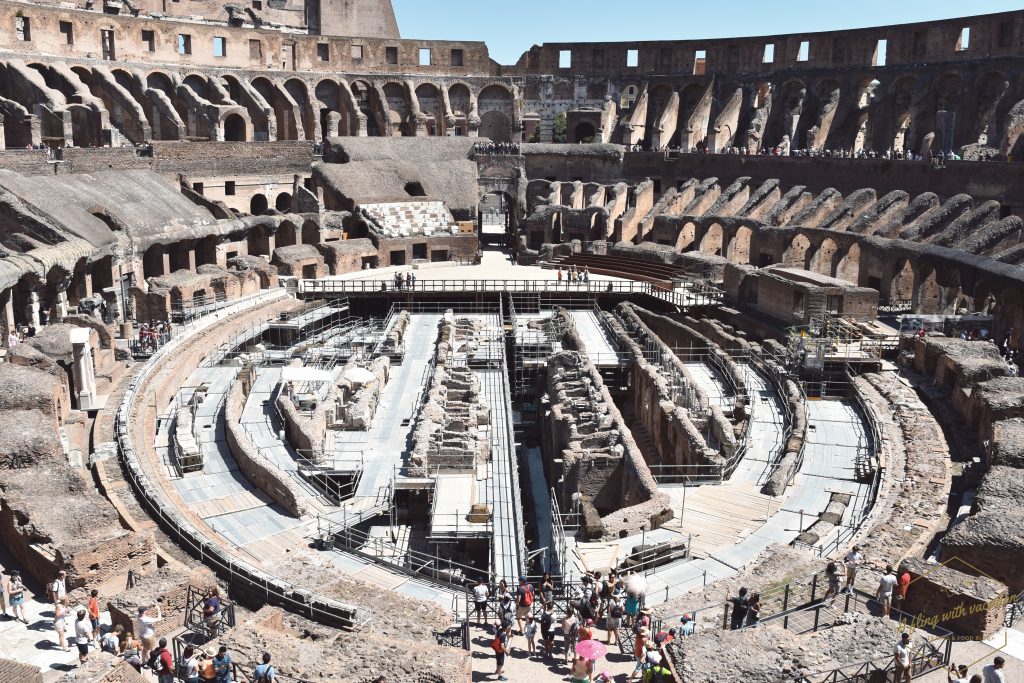 I do recommend booking a guided tour to visit the Colosseum, The Forum, and Palatine Hill. What a guided trip does is cover the whole of it with all the information you need. That not only saves you time but also makes the history relive in your imagination by the storytelling the guides skillfully do. The Colosseum operates from 8:30 in the morning to the evening where the times differ. To know the operating times visit here.
2. The Roman Forum and Palatine Hill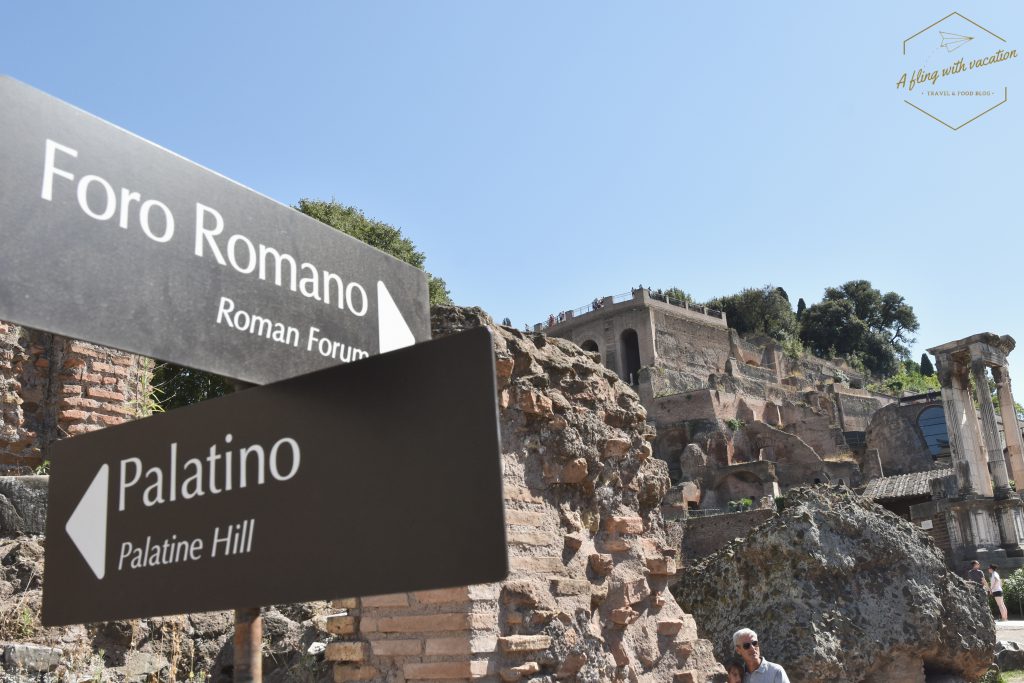 Another place not to be missed near Colosseum is the Roman Forum and the Palatine hill. These may not be as popular as others, but they make one of the most important attractions in Rome. The Forum is from where the Roman empire was administered and Palatine hill is where the aristocrats lived. These were the heart of Ancient Roman Civilization with many essential public, religious and political structures. Even in the form of ruins, the then charm and splendor of the Roman empire are quite apparent here.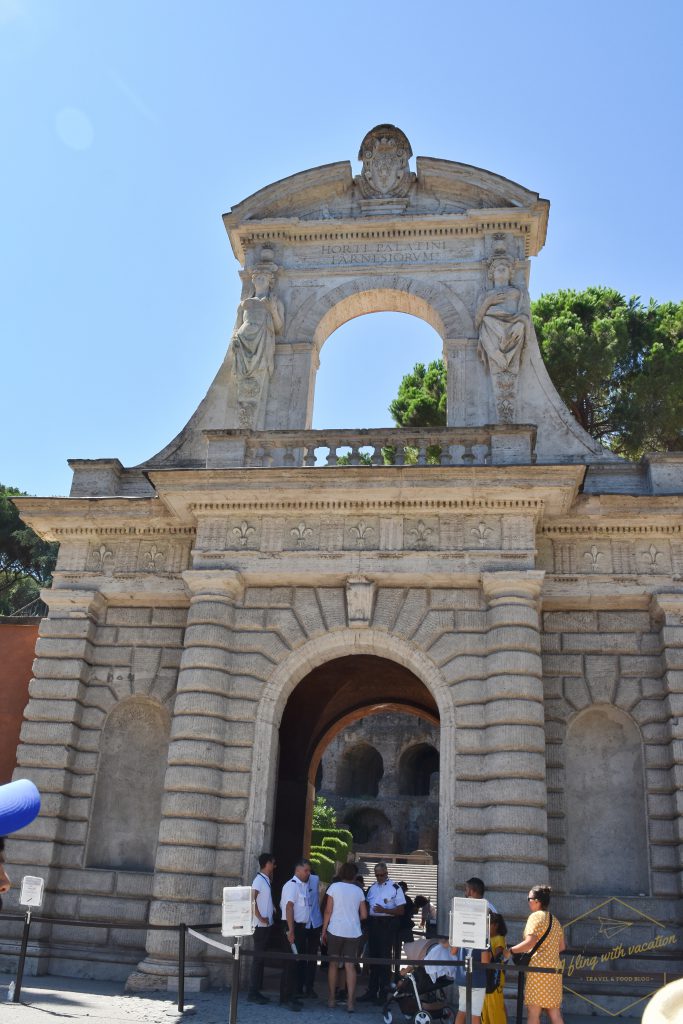 I highly recommend getting a guide for getting the most information while exploring. The guided tour brings the ruins to life by the storytelling about what used to happen where in the good old days. A combined tour for the Colosseum, Forum, and Palatine Hill is a great option to keep you on time along with all the information needed.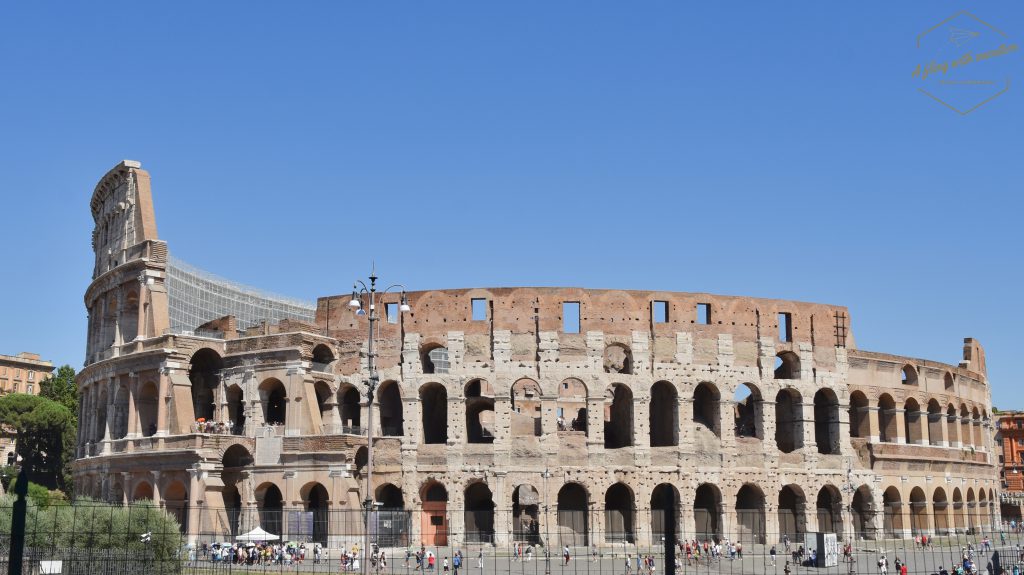 While at Palatine hill and Roman Forum one can also visit the following few sites and many more of the incredible sites located here.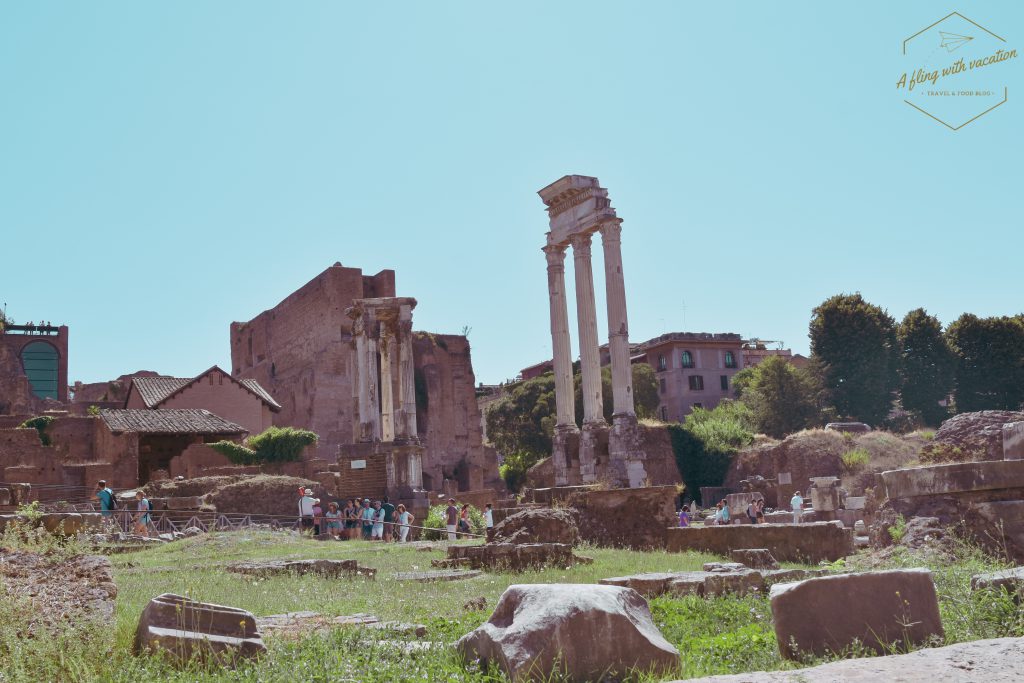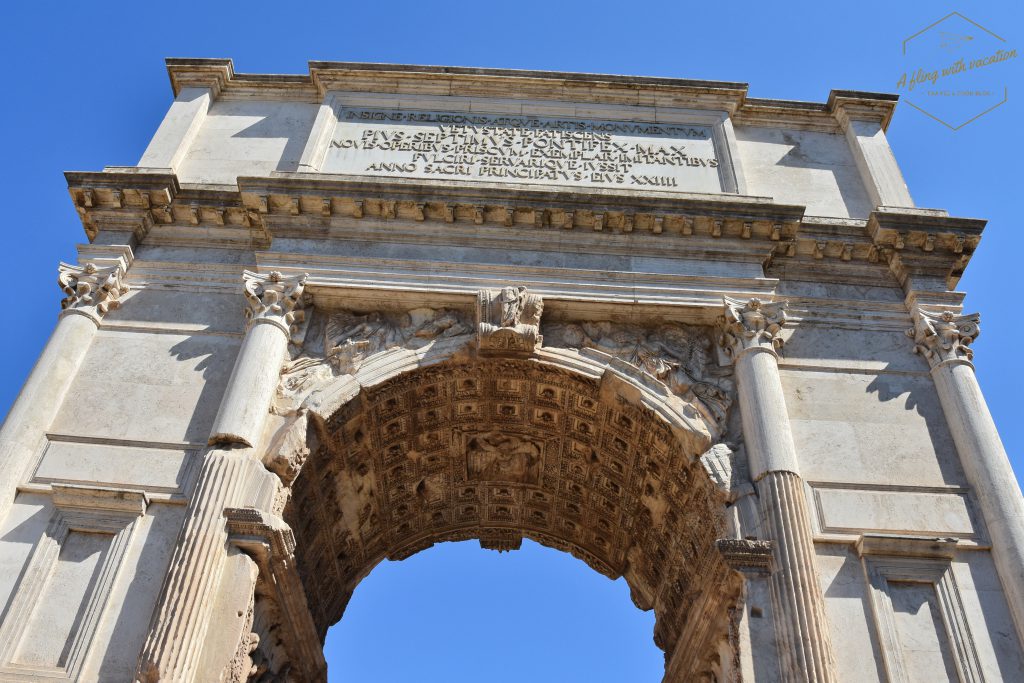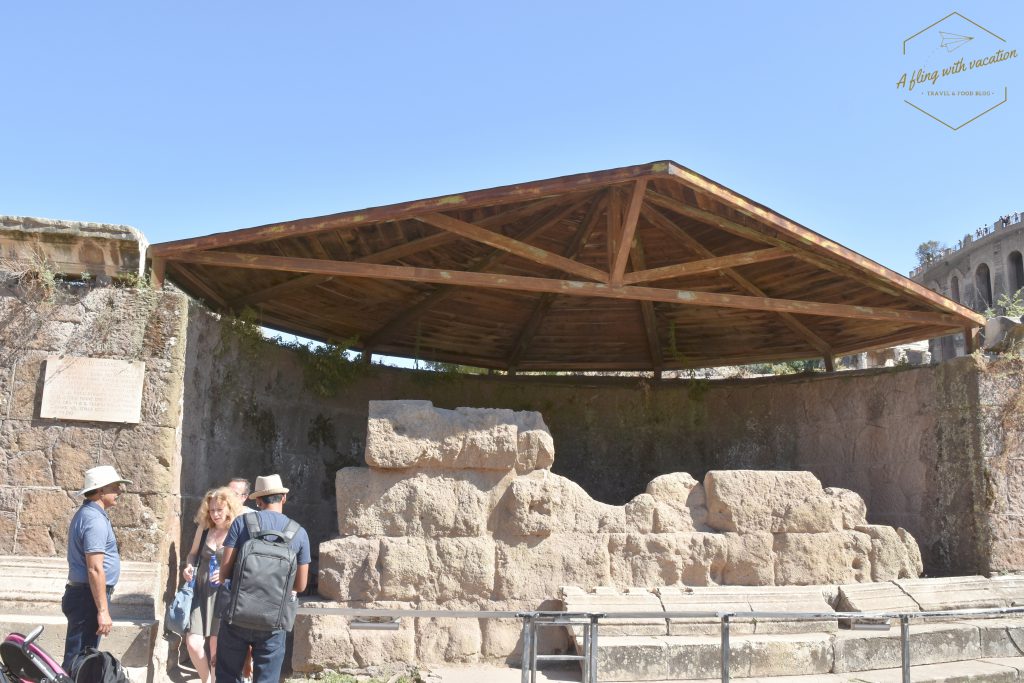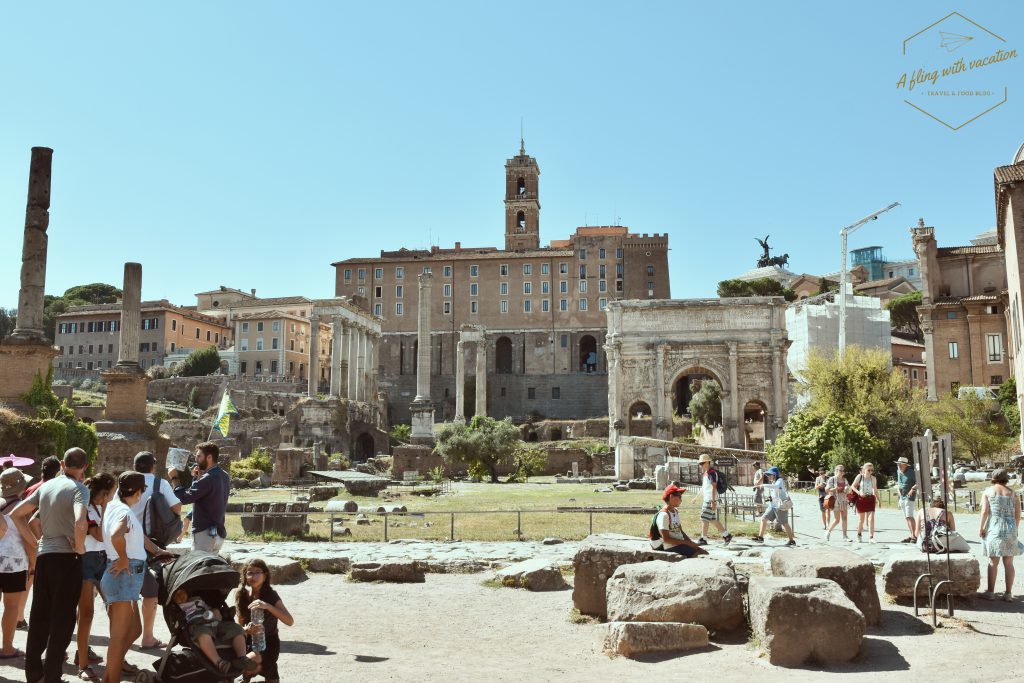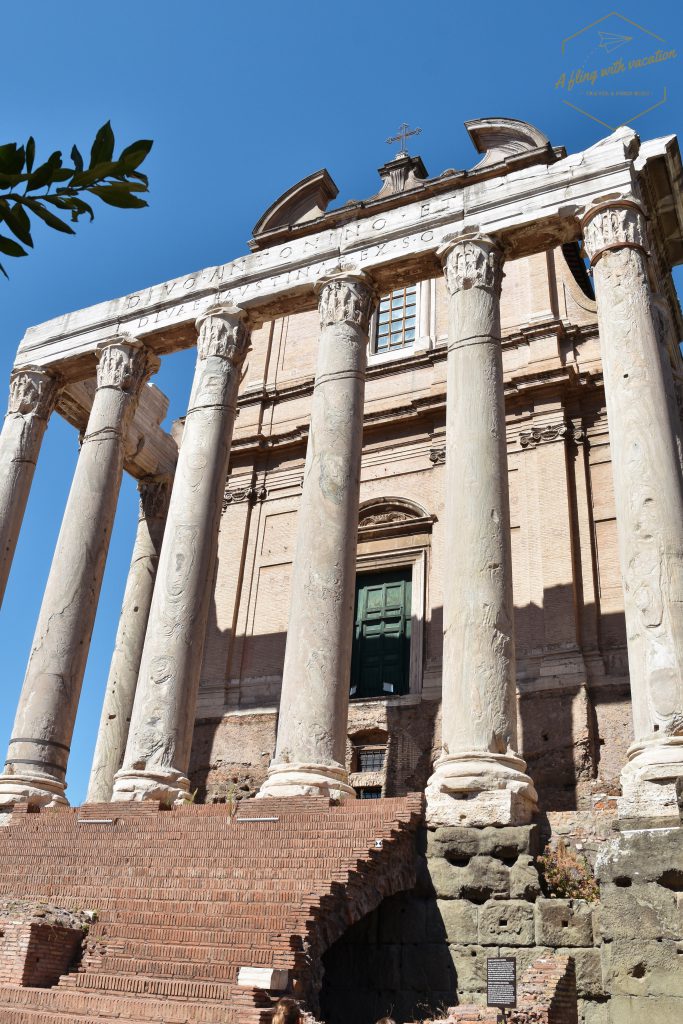 3. The Trevi Fountain/ Fontana di Trevi
No trip to Rome can be complete unless you do stop by the Trevi fountain and even toss a coin in it. The tradition is to toss the coin from your right hand over your left shoulder to confirm your return to this magical city. Tossing the second coin is if you are seeking love and a third is for love to wedding bells! Yes, that does lead to a lot of coins thrown into the fountain. On average about 3000 euros worth of coins is tossed in the fountain every day which is donated.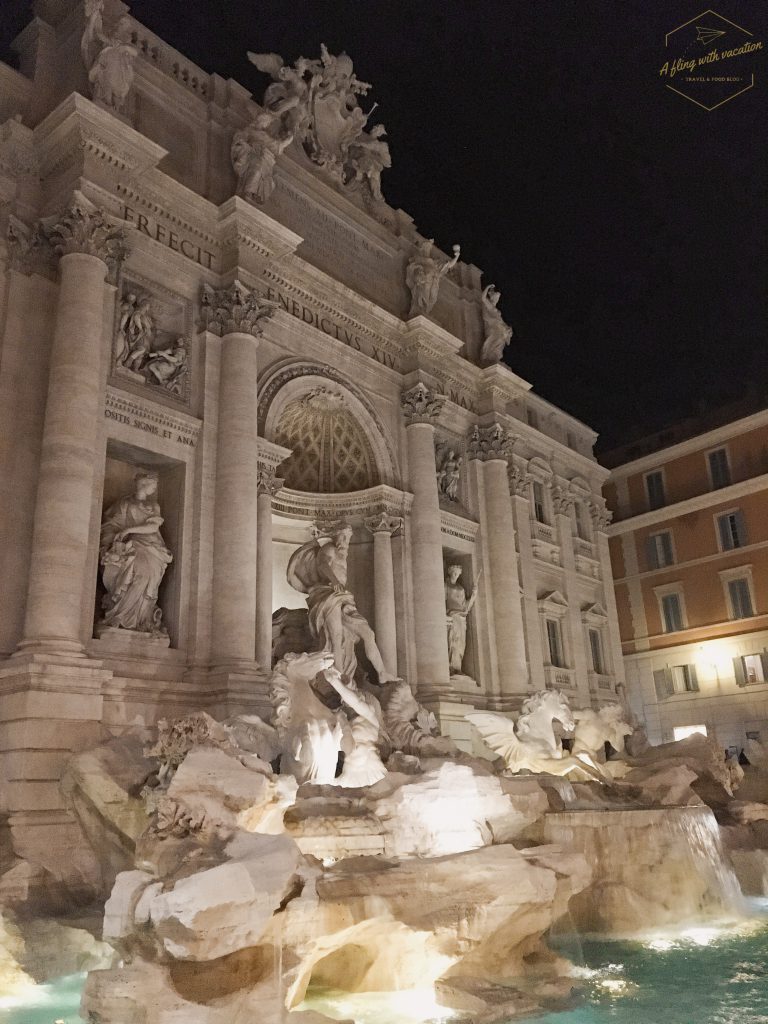 You could guess how many people visit here every day, hence the fountain is always full of crowds. As per me the best time to visit would be at night when the streets around are full of artists singing, playing instruments, painting, sketching, etc. This would make the perfect souvenir for your Rome trip. The experience is quite overwhelming, to be honest.
4. Pantheon
Pantheon, the then temple, located in the Piazza Della Rotonda, is one structure that stands tall and difficult to miss. It is in amazing shape and condition as compared to the Colosseum or the ruins. When in Rome you need to visit the Pantheon. You would want to sit and soak in the views of Pantheon from outside You might even want to have a meal by the Pantheon at one of the restaurants right in front of it. Entry inside is free, and the majestic structure does captivate one and all from inside. It would be good to visit in the daytime and you might get a glimpse of sunlight entering through the opening at the top of the dome.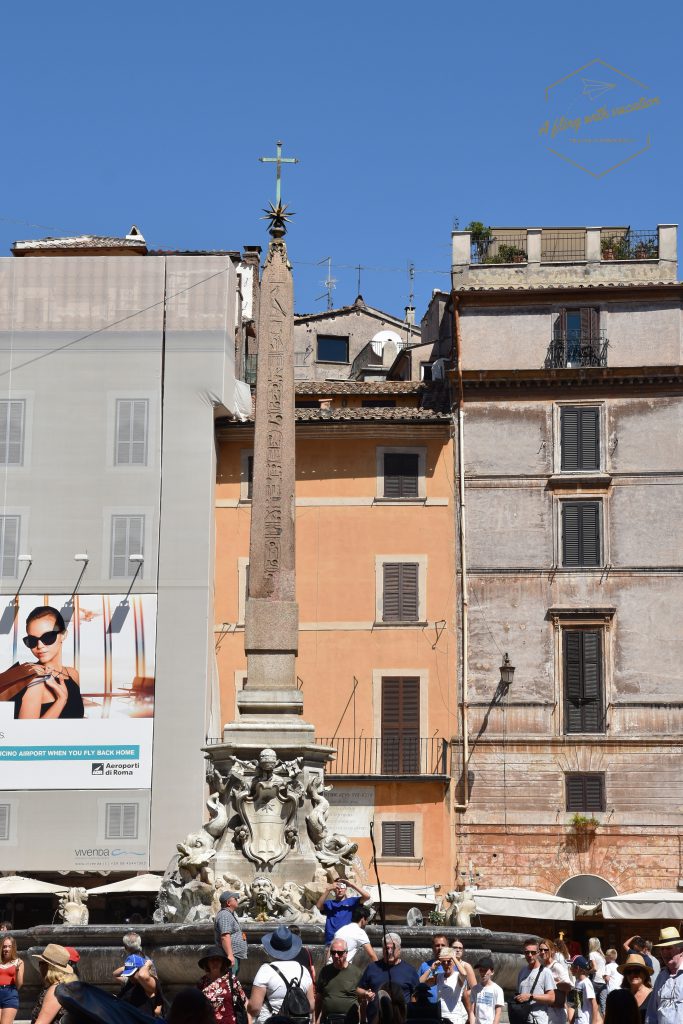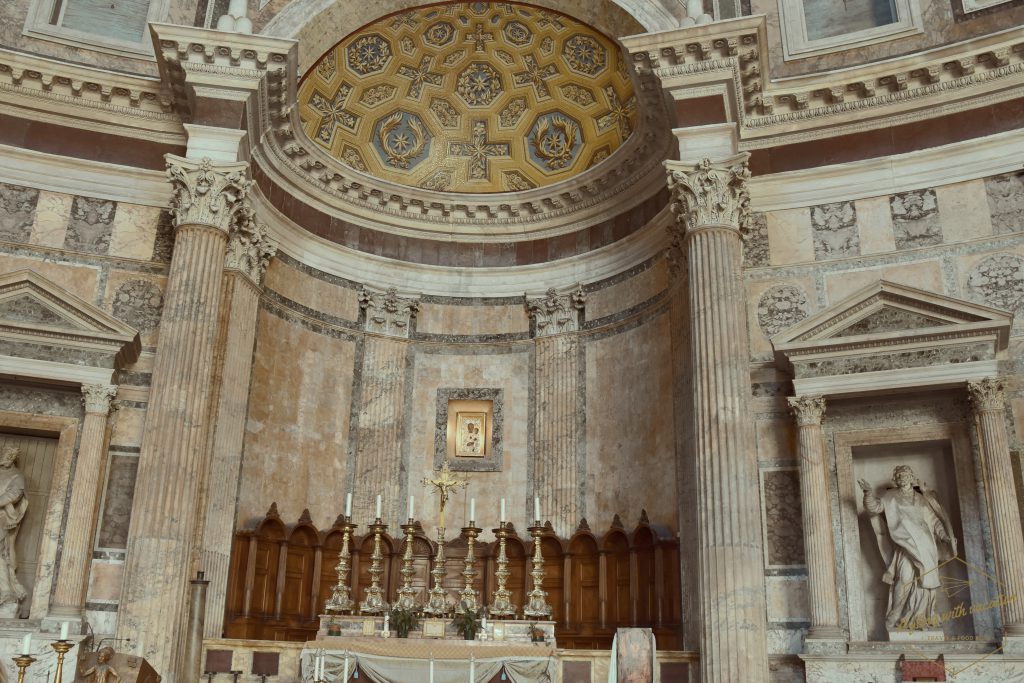 5. Piazza Navona
One of the most popular Piazzas in Rome. Famous for the fountains, bars around it, street artists playing their hearts out. Go out here for dinner or drinks or simply chill around the fountain.
6. Vatican City and St. Peter's Basilica
The World's smallest country- Vatican City, is also home to the Pope, and to the Vatican Museums. Famous for the museums and St. Peters Basilica, the Vatican is a pretty sight by the evening when it lights up and also with lesser crowds. Even if you are not keen on visiting the museums and Basilica from inside, you could still have a walk around and sit near the Basilica. It sure is a pretty sight from outside too.
St Peter's Basilica, the largest church in the world, is also equally impressive. Entry inside is free but almost always crowded. Although if you wish to climb to the top of the Basilica dome you would have to pay a small fee. Timings for the Basilica are 7 a.m. – 7 p.m. ( from 1st April – 30th September) and otherwise 7 a.m. – 6 p.m.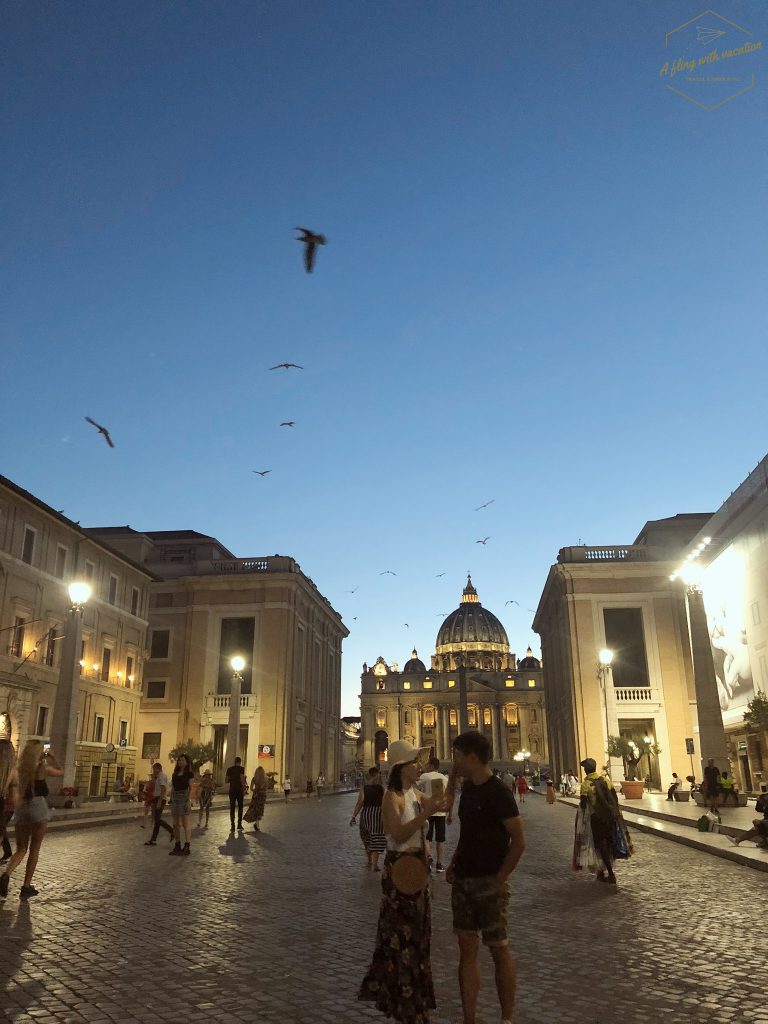 7. Spanish Steps
8. Largo di Torre Argentina
This spot located at a 5-minute walk from Pantheon is hard to ignore while you are in the area. It houses 4 ancient temples named from letters A to D. It is most well known as the place where Julius Caesar was stabbed 23 times by his assassins in March, 44 BC. It was to date not accessible to the public, but a restoration project is going on to make it accessible to the public by the second half of 2021.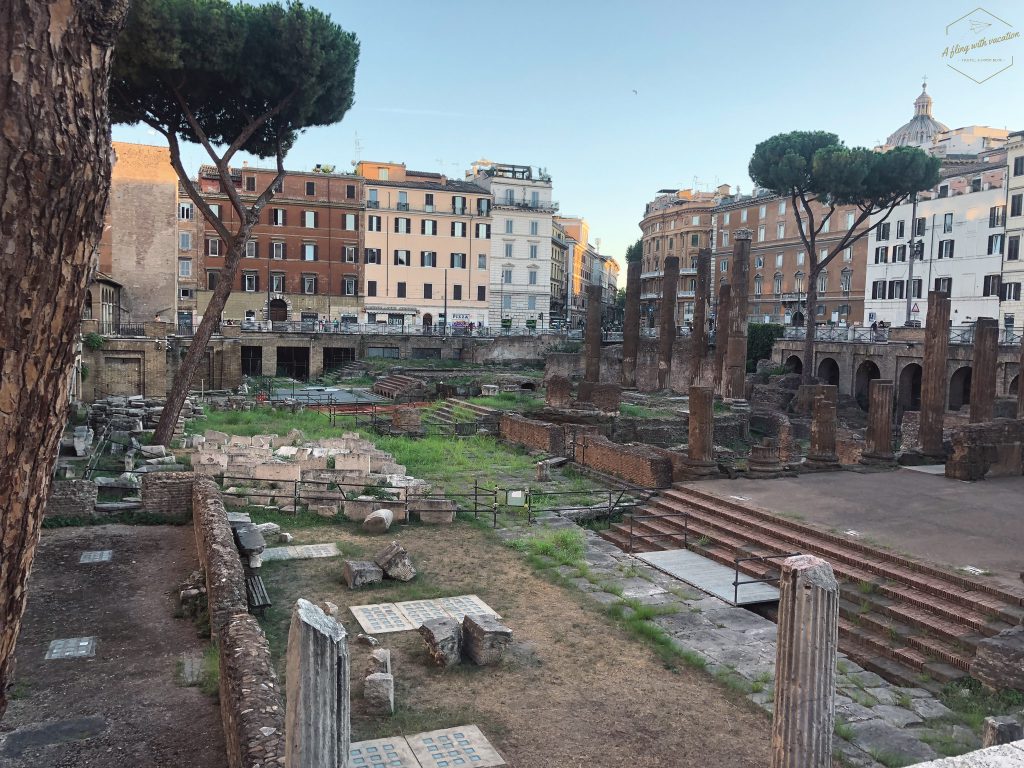 9. Corte Di Cassazione/ The Palace of Justice:
The Palace of Justice in the Prati district of Rome is the seat of the Supreme Court of Cassation (or the highest court of appeal/ court of last resort) and also houses the Judicial Public Library. Italians call it Palazzaccio or the Bad Palace for three reasons. First, because of the construction corruption scandal that followed its completion in 1910; Second, was their dislike for its complicated facade; and third, because of the powers of the court.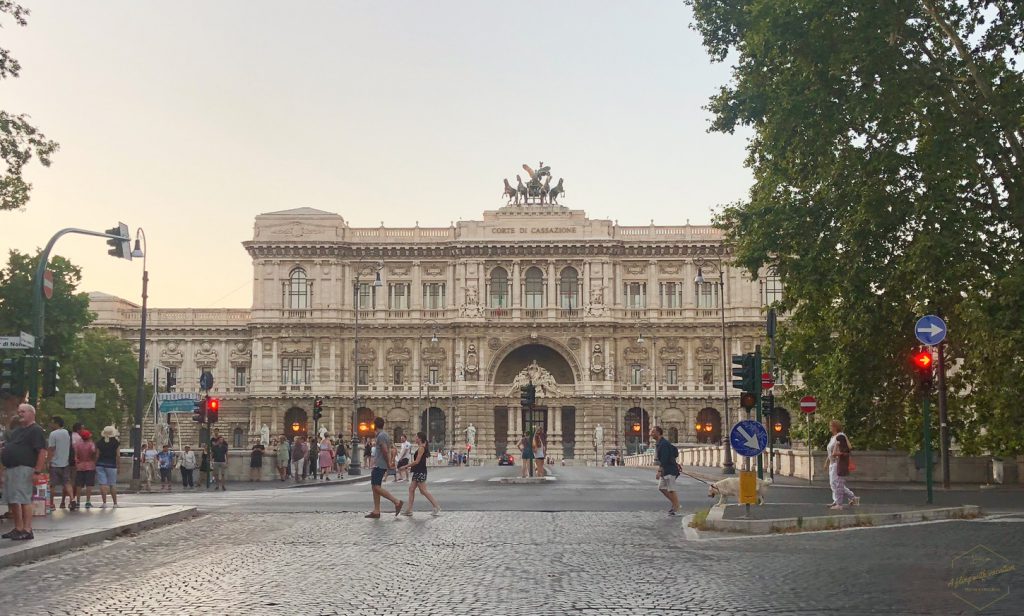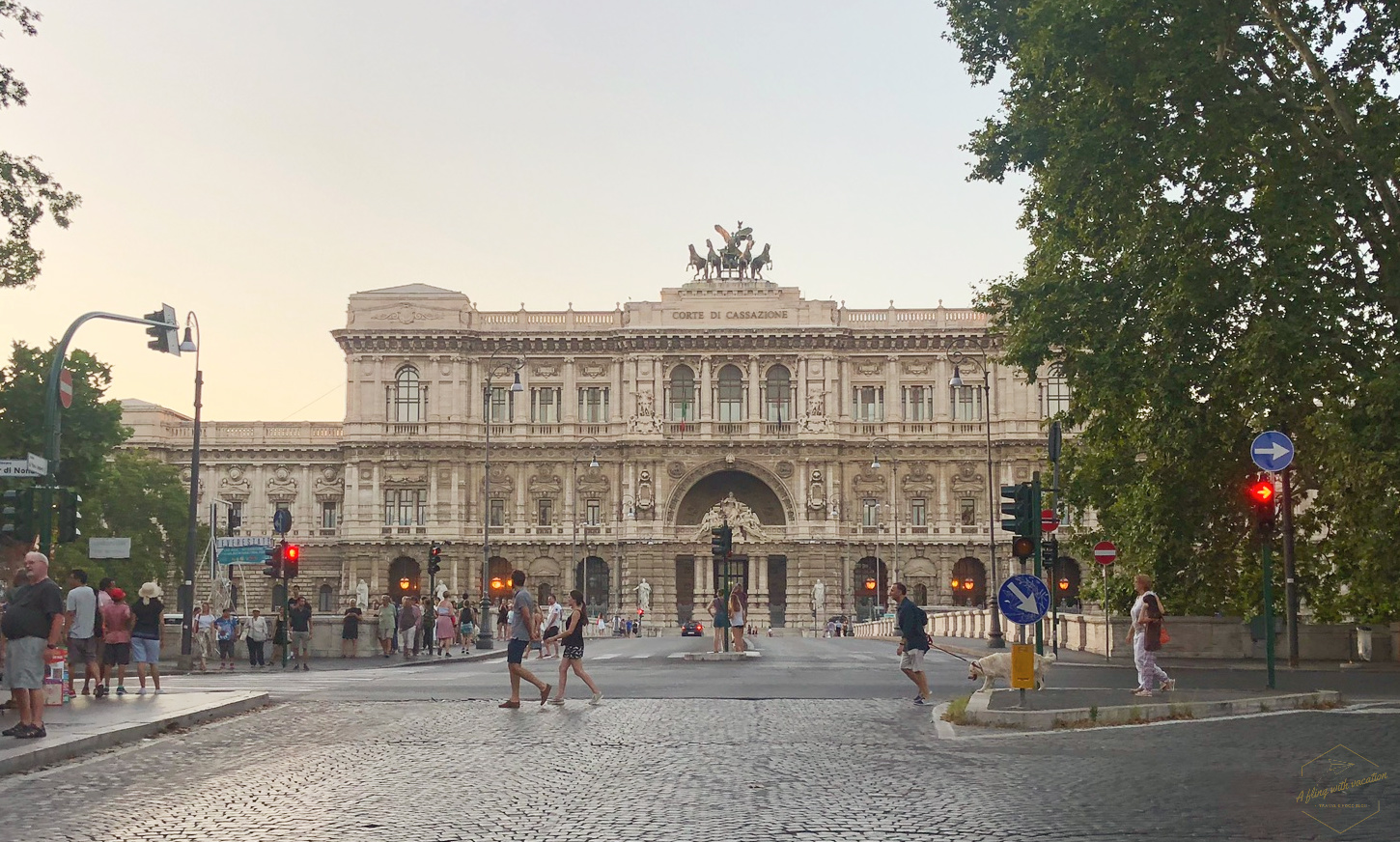 We came across this grand structure while walking around the river Tiber on our way to Vatican City. I would definitely recommend adding it to the list while visiting Rome for the architectural grandeur this place showcases.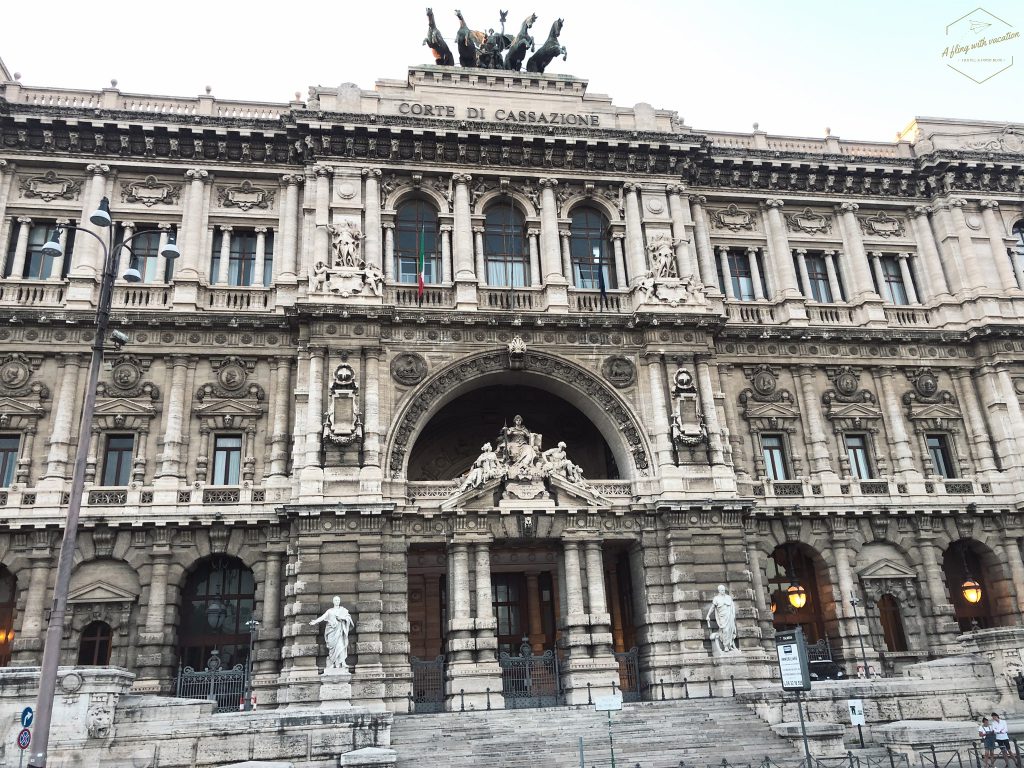 Some Experiences to look out for in Rome:
1. Artists and Arts: My utmost favorite experiences were the Fire painting near the Trevi fountain. Another was to see Viktor Angelov playing his violin tunes and trust me guys he is the best. He is so good at what he does, you all need to catch a sight of him playing to believe. And he performs right at the streets of Rome, unfortunately, there is no place or time that is known beforehand to my knowledge for his performance. To listen to some of his compositions of famous songs search on youtube or visit his official site here.
Yet another experience is getting your sketch by one of the many talented artists on the streets of Rome. Again there are so many things to look out for, one would definitely be to see live the making of a fire painting by one of the street artists.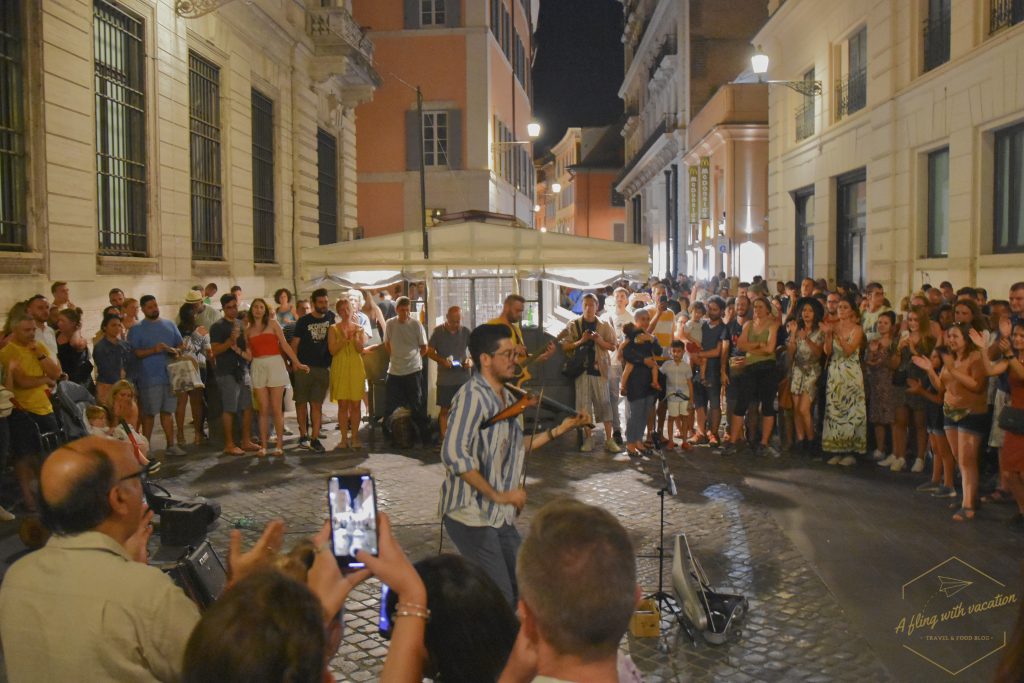 2. Visit the many historic sights and museums. The above-mentioned sights being the most famous and worth the visit.
3. Piazzas and Architecture around the streets of Rome. Just walking down the streets near Pantheon every now and then you can expect to find some or the other historic landmarks.
4. Food and drinks: For recommendations keep reading below.
Foods to try in Rome and where to eat:
When we talk about Italy, it is a foodie paradise. There are so many dishes and liquors that originated here and are worth the try on your trip to Italy. Rome doesn't disappoint in its own set of cuisines. some of my top favorite things to try in Rome are as follows:
1. Suppli:
Suppli is a famous and delicious Roman cuisine snack, in the form of a ball of rice with tomato sauce. There are many versions of it some filled with chicken, mincemeat, or mozzarella. The balls are soaked in egg, then coated with bread crumbs, and then fried. Me (being a vegetarian) chose the Mozzarella version of it and I LOVED IT! A must-try on your trip to Rome. I would recommend Cave Canem, located at Piazza di San Castillo.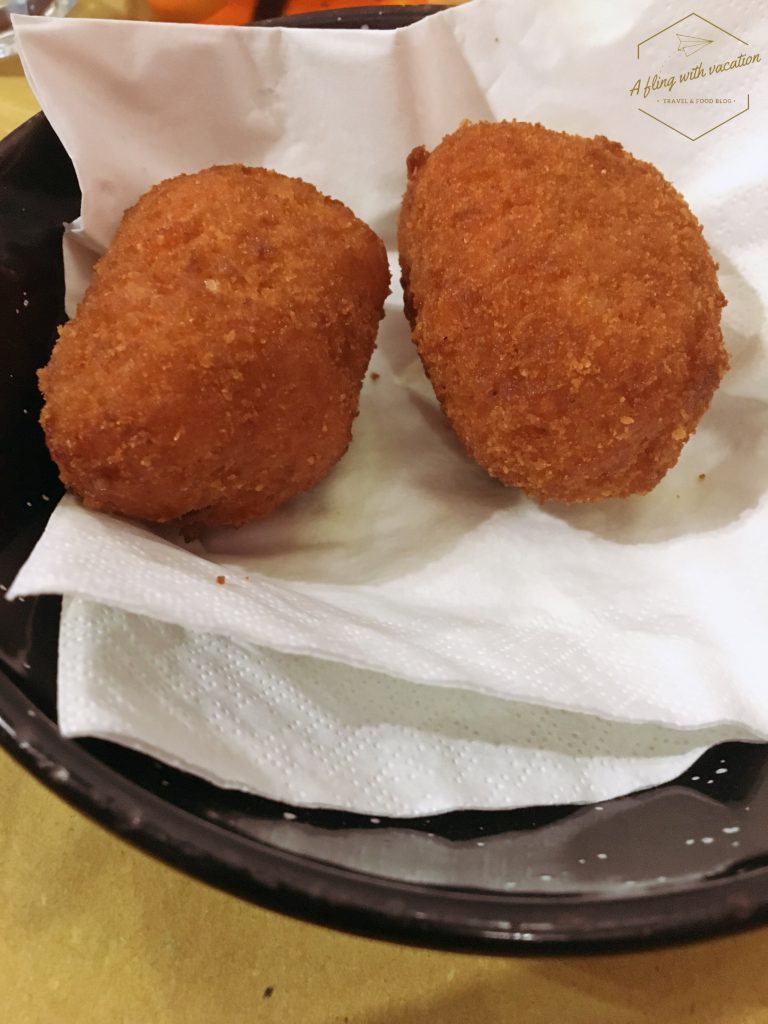 2. Aperitif:
An alcoholic drink taken before meals to stimulate the appetite. The classic version of Roman aperitif is made of white wine or Prosecco, Campari or Aperol, and sparkling water. It was not my kinda cocktail but when in Rome trying it is one thing I would advise.
3. Venchi
The famous Italian gourmet chocolate manufacturer is a must-visit on your visit to Rome. From chocolates, to ice creams, shakes and occasional hot chocolate it is a paradise for chocolate lovers. Don't forget to try their famous Nougatine candies made of crushed and caramelized hazelnuts coated in dark chocolate.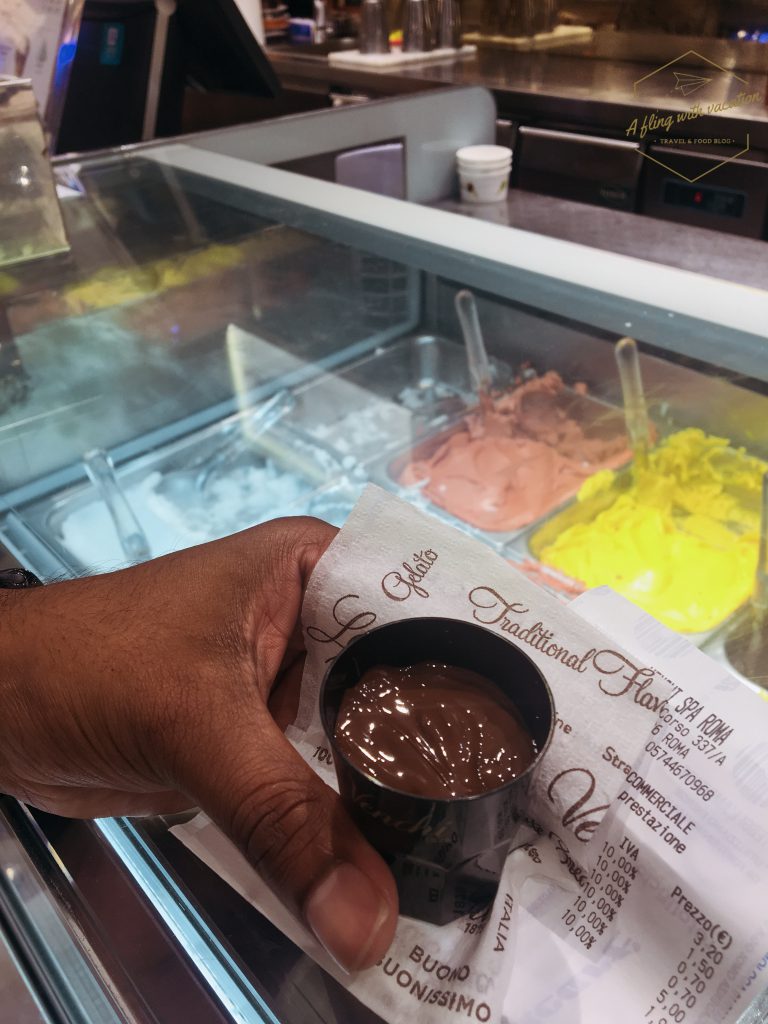 4. Di Rienzo Restaurant at Pantheon
For a romantic Pantheon View meal head here!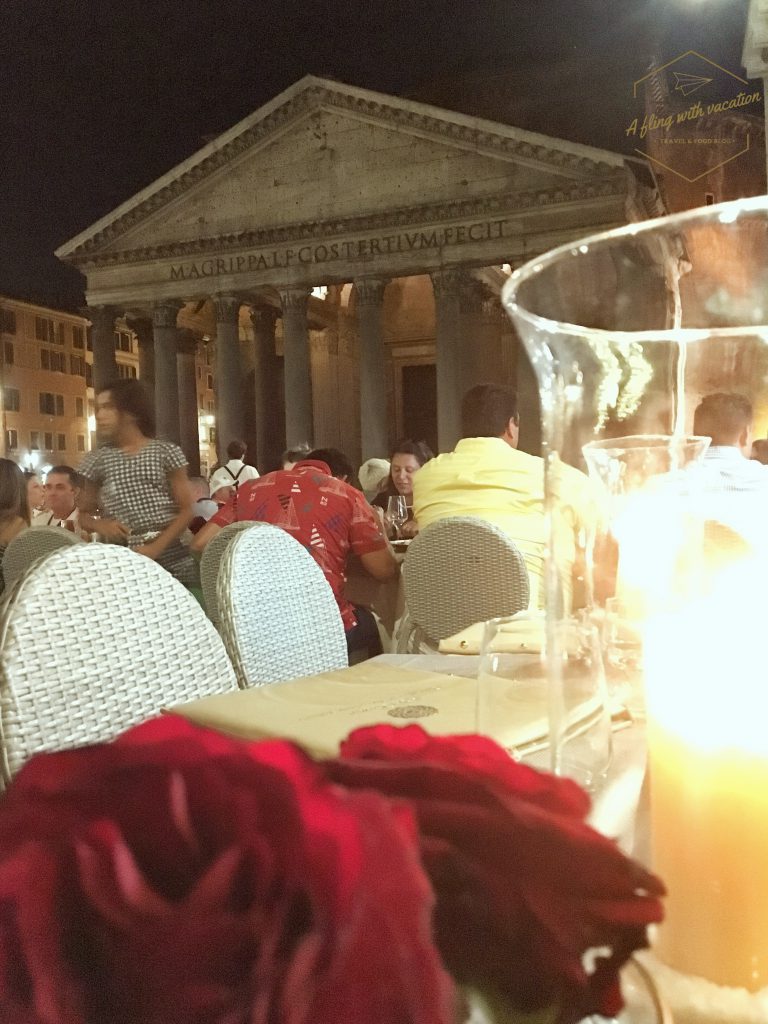 5. Cafe Sciam
About Safety in Rome:
Yes, people warned me about safety in Rome especially about pick-pocketers, people approaching you for help or if you need help, or those who approach you to sell stuff with intent to steal. I would say I felt pretty safe, also maybe because we mostly roamed around the famous sights full of a crowd round the clock. I am not sure of secluded neighborhoods since we didn't visit any. The only a bit aggressive attempt I would say I saw was when one of the fake branded bag sellers at the street started to shout and create a scene with a lady inquiring and not buying from them. We ignored the guy and moved on and it was fine. Apart from that, there were police and security posted at almost all the places all the time.
As per me, safety is definitely in your own hands. Like if traveling solo maybe avoid late-night strolls along lonely streets. Carry all important stuff in a crossbody or backpack and be vigilant. Ignore aggressive people and mind your business. Imposing sellers are to be ignored for sure. But, all this is true for any place you planning to visit in my opinion.