As they say, what happens in Vegas stays in Vegas! Famous not only for Party freaks and Casino lovers but also, catering to culinary fans, adventure lovers, etc. this place which has it all for everyone. The heart of activities and all the glitz of Vegas shines along at the Las Vegas Strip. Most of the attractions that you need to visit when in Vegas are located all near the strip.
Whether you are looking to party hard in a club or by the pool, or if you want to have a drink with a view, or just watch a movie chilling in the pool, or do some fun exploring Vegas is the perfect place for those looking for a relaxed or wild or fun time with a group. I wouldn't call it a family destination, even though it has so many activities for the kids to enjoy, but the long walking along with rates and lines for parking, usual sights around the streets, the crowd, and the loudness that the strip offers might just not be what you would be looking for with your toddlers. Late teens and above would enjoy the most.
A few mixed bags of activities that we enjoyed on our trip and some which we missed but wish to enjoy the next time we visit are listed below.

Things to do in Vegas:
Casino: Yeah, I know it's the obvious part but I had to get it listed and get it over with. When in Vegas do enjoy the crazy Casinos here.
Take a Walk at the Strip: Your Vegas trip is not complete unless you walk the Strip. The bright lights and the Glitz and Glamour will take your breath away..
Bellagio Fountain show: A mesmerizing Fountain show taking place at Bellagio every day attracts thousands of tourists every day. The medley of water fountains dancing to the music and lights is a sight not to be missed whenever in Vegas. The bonus is it is Free to watch. The usual schedule for the fountain show is as follows (which might change) :
| | | |
| --- | --- | --- |
| Time of Day | Days and Timing | Frequency |
| Day to Night | Monday- Friday (3:00 pm to 8:00 pm), Saturdays and holidays (12:00 pm to 8:00 pm), and Sundays (11:00 am to 7:00 pm) | Every 30 minutes |
| Night to Midnight | Monday- Friday (8:00 pm-12:00 am), Saturday and Holidays (8:00 pm-12:00 am ), and Sundays (7:00 pm-12:00 am) | Every 15 minutes |
Shark Reef at MGM Resorts International Hotel. If you are into aquariums and visiting the life underwater, this is a cool place to start.
Cirque du Soleil: Just in case you don't know what it is- this Montreal-based entertainment company is known to be the largest contemporary circus producer in the world. With stunts, music, aerial acts, dance, acrobats, and other performing arts, the shows do take your breath away. Although there multiple shows happening at a time at different hotels in Vegas. I personally highly recommend the 'O Show' at Bellagio Grand. This show has water elements included that separates it from the others. Book your tickets here.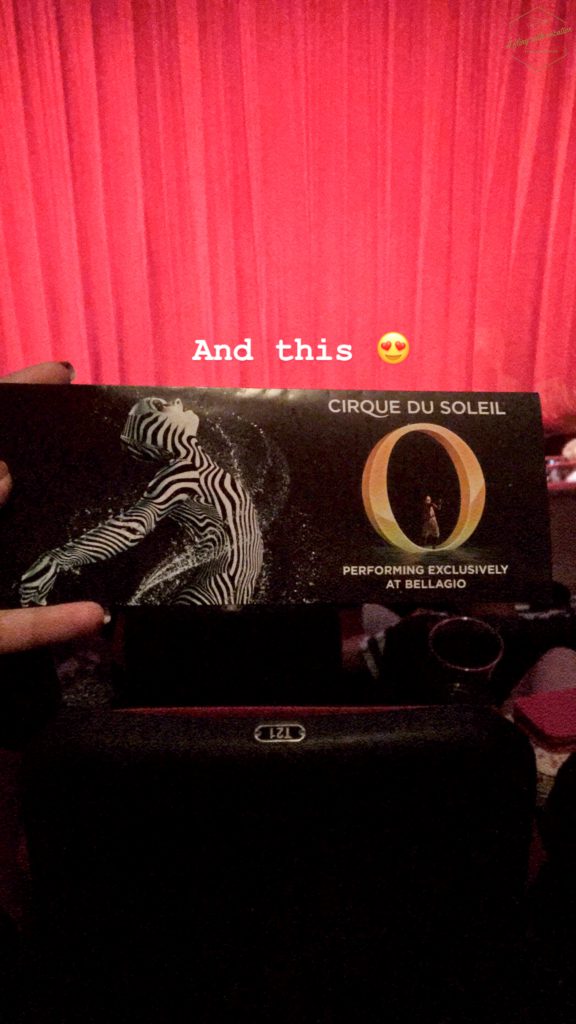 Gondola Ride: This ride at the Venetian Hotel takes you to the streets of Venice, Italy. Just like in Venice, one rides Gandola and you could spot a boat rower singing, expect the same magic here. Another attraction to visit is the Eiffel Tower's viewing deck in Vegas at Hotel Paris.
Visit the M&M Store: The M&M store at the strip can be any chocolate lovers' dream destination. Beware: Kids can spend hours and still not want to leave it. The other famous stores are Coca-cola, Hershey's, etc.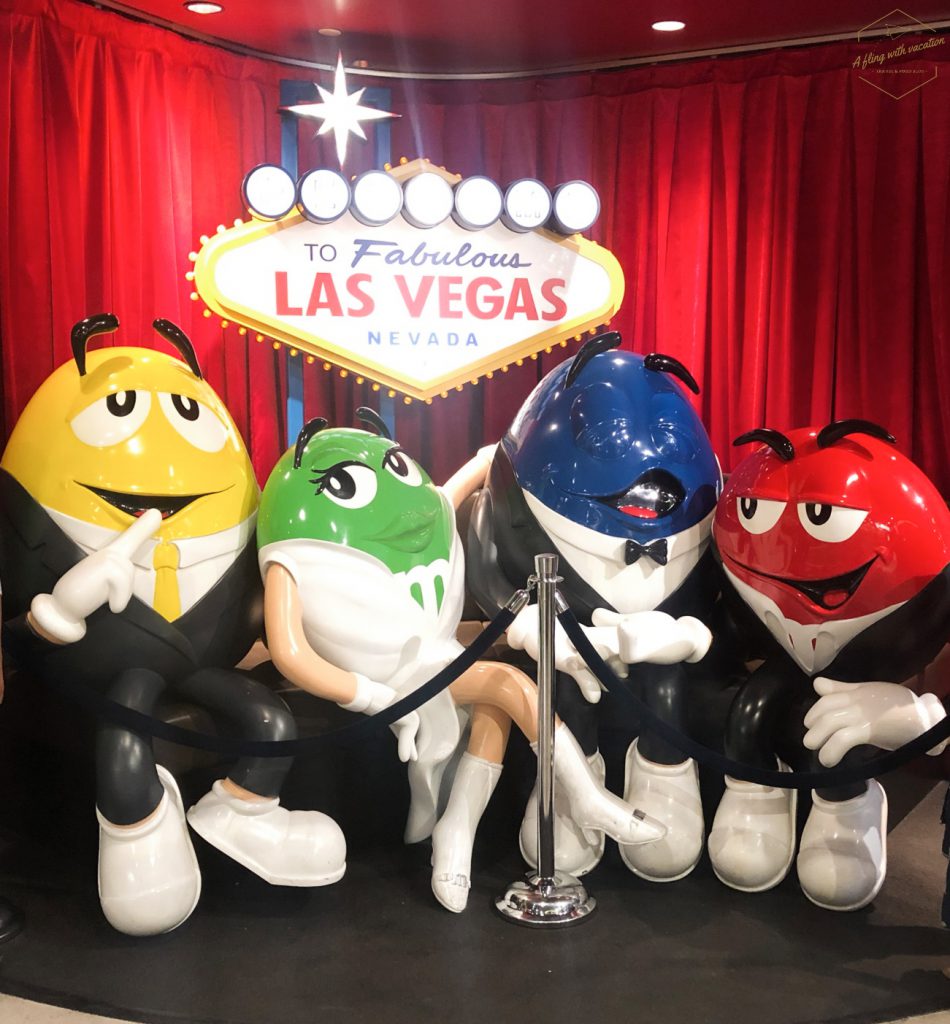 Go for your favorite Performer's show: With so many well-known artists from around the world performing here at Vegas, don't miss the chance of catching up on your favorite performer's show. Be it a Magic show or Circus. You could even enjoy some CSI experience here.
Take a picture with the famous Welcome to Fabulous Las Vegas Sign.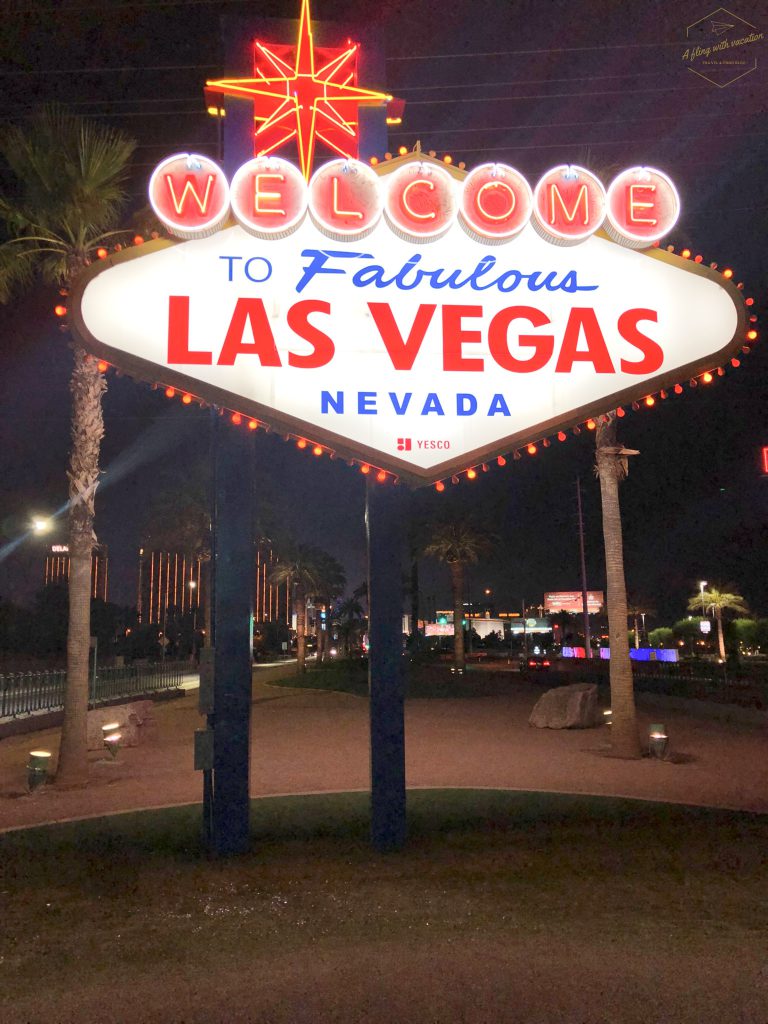 Stratosphere Tower: Visit the SkyPod Observation Deck at levels 108 & 109 of Strat Hotel for a 360-degree panoramic view of Vegas strip and valley. You can book your tours here.
Hoover Dam: The Hoover Dam (originally Boulder Dam), one of the most iconic structures was built in 1930s on the Arizona-Nevada border, and holds back the Colorado river forming Lake Mead. It is a national historic landmark and a popular tourist destination. Many say a trip to Las Vegas is not complete without a visit to the Dam. Choose your commute to the Hoover dam road, Air or water. While you plan your tour do pay a visit to the Visitor center, schedule a power plant tour, take a guided or self guided audio tour of the dam.
Take a meal at the celebrity chef Gordan Ramsey's Michelin Star restaurant Hell's Kitchen at Ceasar's Palace.
Things to do near Vegas.
Seven magic mountains: A large scale monumental public art installtion by Swiss artist Ugo Rondinone displayed in a desert to the south outside Las Vegas in 2016. the installtion consists of seven 30-35 feet high colorful dayglowing stacked boulders. It is located at about 30 mins drive from Vegas, is free to visit, and sure will brighten your day with all teh colors.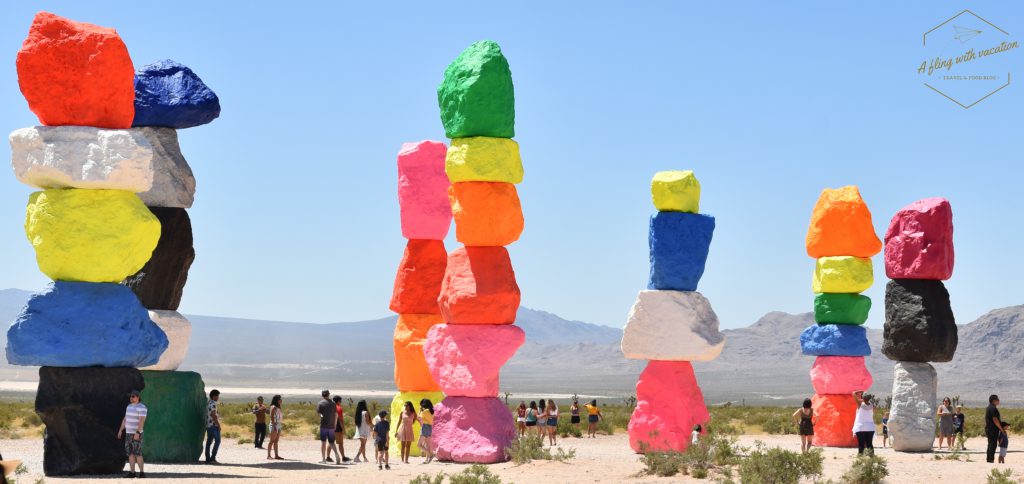 If you are looking for a trip to Arizona check out our post on the Grand Canyon and places to visit here or a Road Trip from California don't miss out on our off-beat recommendations on the same! Check out a visit to Calico Ghost town here and A night stop-over in Palm Springs here.